Jaffna Combine Schools XI hit the daylights out of the confident S. Thomas' Mt Lavinia team with a shocking four wicket win in a second round match on day two of the 17th Munchee Glucofit Invitation Schools Cricket Sixes organized by the Old Wesleyites Sports Club played at Campbell Park.
In the process they advance to the quarter-final which is a great achievement and the winners gave the crowds something worth to watch.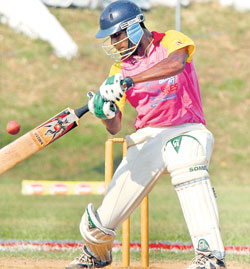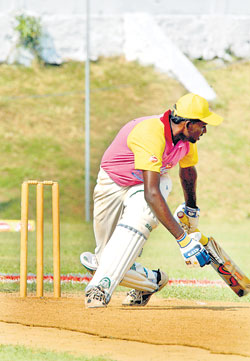 Jaffna openers Pathmanathan Navatheepan and Rathnam Edwards in action at Campbell Park yesterday. (Pic by Ranjith Perera)
Earlier the Jaffna lads opened their campaign with a three wicket win over International Schools Champions -- Lyceum College in the first match.

S. Thomas' who had earlier trounced the Trincomalee Combine Schools XI came into the game with much confidence.

STC won the toss and elected to take first lease and openers' skipper Dinesh Walpita and hard hitter Nuwan Dharshana who made a prolific unbeaten 64 made steady progress. In the halfway stage of the second over it seemed they were again on their way to put up a big score.

But it was not to be with the dismissal of Walpita the Thomians fell back with the Jaffna lads not giving away anything. Jaffna succeeded in their mission by getting the prized wicket of Dharshana which later saw the Thomians struggling on 48 for 4 in the fifth over.

The Jaffna lads put the pressure and succeeded in restricting the Thomians to a score of 57.
Chasing their target the Jaffna openers Pathmanathan Navatheepan and Rathnam Edwards gave them a flying start adding 47 runs which was also aided by the poor bowling and fielding by the Thomians. Jaffna reached the target with four balls to spare. The other two teams to advance to the quarter finals were Mahanama Colombo and Lumbini MV while Ananda, Royal Colombo, Zahira, Dharmapala and St Peter's qualified to the second round after winning their matches played in the two sessions.
Results:
Jaffna Combined Schools XI 64 for 2 in 4.3 overs (Milando Jennifer 17, Rathnam Edward 22 n.o.)
Lyceum College 61 for 3 in 5 overs (Mateesha Ranaweera 21, Heshan Jayasinghe 17)

Ananda 35 for no loss in 2.1 overs (Udesh Nadiranga 18 n.o., Sachin Dewage 17 n.o.) beat Ampara Combined Schools XI 31 in 4.1 overs (Hashan Ravinga 11 n.o.)

S. Thomas' 76 for 1 in 5 overs (Nuwan Dharshana 64 n.o.) beat Trincomalee Combined Schools XI 41 in 4.1 overs (N. Devaviduran 18, T. Kumuthan 10: Janith de Silva 3 for 14)

Royal 41 for in 3.1 overs (Varuna Dissanayake 23 n.o.) beat Polonnaruwa Combined Schools XI 38 for 4 in 5 overs (Kasun Viraj 18 n.o.: Charutha Rajaratne 2 for 15)

Zahira 47 for no loss in 3.1 overs (Mohamed Imran 36 n.o.) beat Holy Cross Kalutara 46 in 5 overs (Ashan Silva 11 n.o.: Mohamed Hilam 2 for 15)

Dharmapala 82 for no loss 4.3 overs (Hasitha Wickremasinghe 51 n.o., Tharindu Liyanage 30 n.o.) beat St Thomas Matale 81 for 1 wicket in 5 overs (Rajitha Ranaweera 36 n.o., Chathuranga Jayatilleka 32 n.o.)

St Peter's 58 for no loss in 2.1 overs (Nilochana Perera 25 n.o.) beat Wesley 56 in 5 overs Dulanjana Wijesinghe 27, Ashel Kariyawasam 13 n.o.)

Joseph Vaz 46 for 1 in 3.2 overs (Sineth Kalhara 17 n.o., Prashan Obris 15 n.o.) beat Asoka MV 43 in 4.2 overs (Sithija Madushan 11: Ranmal Rodrigo 2 for 6)

Jaffna Combined Schools XI 58 for 1 in 4.2 overs (Pathmanathan Navatheepan 14, Rathnam Edward 14 n.o.) beat S. Thomas' 57 for 4 in 5 overs (Dinesh Walpita 18, Nuwan Dharshana 15)