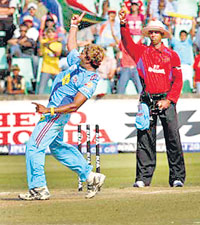 Dharmasena – a fast tracked umpire
Minister of Sports Gamini Lokuge believes that there should be a change in the umpires committee of the SLC.

After only skimming through the three member committee that comprised former BCCSL secretary Nuski Mohammed, R.J. de Silva and Peter Manuel (Manuel resigned from the committee half way after some of the umpires protested about his inclusion into the committee) to probe into the activities the SLC – UC the minister lamented to the Sunday Times "I have not studied the report thoroughly. But, from the content that I have seen so far, things can not be ignored. I feel that there should be change in the SLC umpires committee."

The minister appointed this committee in the aftermath of some of the senior umpires made representations to President Mahinda Rajapakse on the irregularities of the SLC Umpires Committee.
The committee had been very critical about the "Fast Track" system adopted by the SLC-UC and also the lackadaisical approach towards the action against those umpires who were guilty of copying during the examinations. The Present Umpires Committee comprises – Ken de Alwis (Chairman), Sudharman de Silva (Secretary), Srinath Silva, Vernon de Mel, Percy Perera and Mahinda Halangoda.

It is also learned that the minister is on the lookout for replacements to this committee.