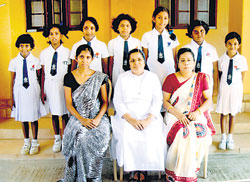 Ave Maria Convent, Negombo Chess Team under 10 emerged as Chess Champions at the Inter School Chess Tournament 2009 Western Province.
Two Board Prizes were won by Roshell Nathasa Askey and Oshani Ran Muthupura.
Picture shows: First row left to right: Sanoja Perera (Chess Instructor), Rev. St. Francin Muthugala (Principal Ave Maria Convent, Negombo), Nirosha Rajapaksa (Teacher In charge of Chess).
Second Row; - left to right: Roshell Natasha Askey, Amandi Fernando, P.A.R. Rushmali Nonis, Nihari M. Dalpadadu, K. Rebaca S. Fernando, E. Roshana Fernando & Oshani Ran Muthupura. (Pix By W. Hubert Fernando –Negombo)