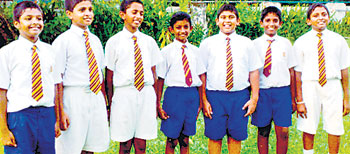 The Under 12 team standing (from left) : Akila Aberatne, Senith Suriarachchi, Pasidu Herath, Supun Kuruppu, Dinidu Illupitiya, Mojitha Gunaratne and Yositha Atukorale.
Ananda College, Colombo did well to win the overall Under 12 & 16 Western Province Inter School Chess championships organized by Sri Lanka Schools Chess Association (SLSCA) that was worked off from 9th - 11th October 2009 at Royal College, Colombo. This was a six round event.

Ananda College Under 12 team did well to obtain 27.5 points in 6 rounds and had been unbeaten right throughout the tournament with stiff opposition coming from Royal College and Nalanda College, Colombo respectively. Royal and Nalanda did well to gain 26.5 points each and maintained 2nd and 3rd positions. More than 40 boys' schools in this category from all districts in the western province took part in this competition.

In the Under 16 category they did well to gain 30 points and also maintained an unbeaten record right throughout the tournament. Their Under 14 side gained the runner-up position by gaining 24 points. Royal did well to win the championship in this category.