A big vegetable mafia involving extortionists, traders and some political elements at the Economic Trade Centre in Dambulla was busted by police earlier this week, following the arrest of at least six alleged racketeers, police said yesterday. The busting of this racket brought about an immediate drop in vegetable prices, market officials said.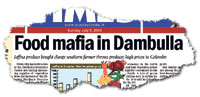 The Sunday Times story of July 5
The Sunday Times first exposed this racket some months ago and follow-up stories were regularly highlighted. Police said a hunt was on for another 12 people involved in the racket, and most of them were believed to have gone into hiding.
"This gang operating for more than a decade was responsible for price-fixing, hoarding and creating artificial shortages to jack up prices. They had the support of some traders inside the market," Matale's Senior Police Superintendent Thilak Abeygoonawardene said.
He said the racketeers were mainly responsible for high vegetable prices in several parts of the country and the police would not allow them to raise their heads again. He said he was glad that some traders were co-operating with the police in busting this racket while undercover police sleuths were maintaining a 24-hour watch in the economic centre.
Senior officials at the Dambulla Centre said that with the arrests of the extortionists the whole sale prices of at least nine vegetables had significantly reduced since the fear climate had been removed. He said a kilo of beans was now selling at Rs. 70, Beetroot Rs. 55, Tomatoes Rs. 50, Capsicum Rs. 55, Snake Gourd Rs. 18, Bitter Gourd Rs. 42, Pumpkin Rs. 20, String Beans Rs.35 and Green Chillies Rs 65.
Earlier the President's Office had ordered the Ministry of Trade and Consumer Affairs to probe the alleged 'mafia' type operations at the Dambulla the Trade Centre.