Veteran journalist and English literature scholar M.I.M Sadie passed away last Tuesday after almost half a century of dedicated and highly professional though low profile service to the print media. In deed and in words Mr. Sadie's career was summed up classically in the headline of another newspaper's tribute - If reading maketh a man, then Mr. Sadie was proof of it. He was a walking dictionary, encyclopedia and a press button source of classical quotes.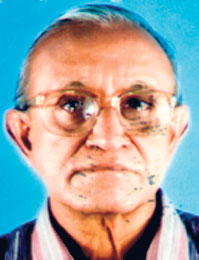 M.I.M Sadie
An old boy of Zahira College, Mr. Sadie who hailed from a leading business family joined the Associated Newspapers of Ceylon Ltd., (Lake House) and served there for about three decades. His command of the English language, commitment to hard work late into the night and his rare literary knowledge set the page for him to become the head of his department.
He later joined the Weekend Express newspaper group and about 10 years ago began what was to be the last long lap of his career at Wijeya Newspapers where he worked for the Sunday Times and the Daily Mirror. Not for him was the fame or the influence of bylines or other perks and privileges.
Yet close colleagues and friends were aware of the vital role he played in maintaining the highest professional and ethical standards in journalism. On July 21,at the age of 74, Mr. Sadie died as quietly as he lived and worked. As he would have wished, his family did not want the publicity even of an obituary notice.
His only daughter, Fathima Hameed - though sad and shattered over the death of her loving and caring father –said her strength in consolation was that he had died on the day when Muslims believe the Holy Prophet Mohamed was taken by God for a visit to heaven.
Fathima has faith and hope that her father also is with God in heaven.So be it.Goodbye Sadie and thank you for your hard work, sincere friendship, selfless generosity and the wonderful contribution you made towards producing a better newspaper.