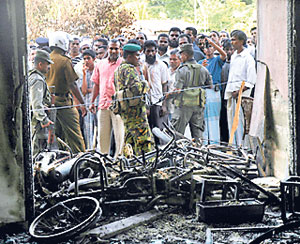 People gather at the entrance of the mosque that was burnt.Pic by Saman Kariyawasam
Feuding between two rival Muslim groups at a historic mosque in Beruwala yesterday, left two dead and 40 injured, 12 of them seriously, police said. They said, clashes erupted over critical remarks made by an Imam (a cleric) who was leading Friday's Jumma prayers at the Buhari mosque against a Muslim group who style themselves as Thawheed. The group's members are strongly opposed to Muslim shrines and the conduct of feasts in mosques and are calling upon traditional followers of Islam to shed those habits.
Yesterday, when the 135th Buhari feast was under way, the group's members stormed the mosque and attacked the devotees, police said. The annual feast draws Muslims from all parts of Sri Lanka.
The relatively new group has emerged in several areas of Muslim concentration. Last year, clashes between Thawheed and the traditional Muslims occurred in a mosque in Thihariya, a town in the Gampaha district.
Police investigations have revealed that an oil rich country in West Asia has been channelling large amounts of funds to these groups. So much so, they say, the group has constructed its own mosque in Dharga Town, barely six kilometres from the scene of the Buhari mosque incident, where the violence erupted yesterday.
The clashes began after the Thawjeed group, armed with knives, swords and axes stormed the mosque. The clash with their rivals damaged cars, motor cycles and bicycles. A specail Police team has been deployed in the area.