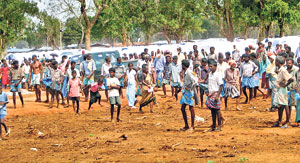 IDP's gathered outside their tents in a Vavuniya camp.
The issue of inadequate toilet facilities still remains at large with the government and the relief agencies trading charges on who is accountable. Resettlement and Disaster Relief Ministry's Secretary U. L. M. Halaldeen said that UNICEF was responsible for the construction of toilets and that question should be raised with them.
Meanwhile, in the latest edition of SCOPP quarterly, it states that the toilets which are being constructed by UNICEF are not suitable for Sri Lankan conditions.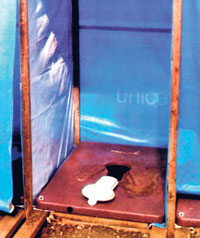 The makeshift toilet at a camp made using a wooden structure
The toilets made out of wooden structures and plywood floor boards are not appropriate as local toilet habits would cause the floors to cave in. The Sunday Times also learns that some of the toilets were below the government stated standard as well.
With insufficient toilet facilities in the camps, people have been forced to change eating patterns to cope with the situation while some others wake up at one in the morning in order to use the toilet, sources speaking to the Sunday Times said.
While the latest Joint Humanitarian Update stated that the present available land was inadequate to construct more toilets, the paper learnt that authorities are not able to allocate land for toilets as relocation plans of IDPs are still not finalised.