Pledges to make Jaffna "another Singapore" and one of the cleanest of cities are among the many promises candidates for the upcoming Jaffna Municipal Council election are making as they go on their different campaign trails. Local government elections are being held in the North after a break of 11 years.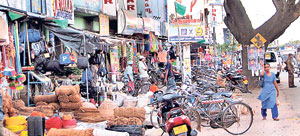 Local elections are being held in Jaffna after a break of 11 years.
Almost all the candidates vow to develop Jaffna town if they are elected. UNP candidate S. Sathyendra said he wants to make the Jaffna bus stand even better than the stylish Matara bus stand, while Moulavi Subian wants Jaffna to look like the "lion city" Singapore. The Eelam People's Democratic Party wants a clean Jaffna, while M. Remedius of the Tamil National Alliance says TNA members of parliament will fight for the rights of Tamils inside and outside Parliament.
The ruling United People's Freedom Alliance (UPFA), the Tamil United Liberation Front (TULF), the Tamil National Alliance (TNA) and the opposition UNP are among the parties contesting in the municipal council elections.
So far, the candidates seem more focused on their house-to-house campaigns than on their public rallies. The EPDP and TNA candidates are being especially aggressive, with officials arriving daily in Jaffna to take part in the campaign.