The Supreme Court this week granted interim relief to a disabled rights activist who has been calling for the implementation of the Protection of the Rights of Persons with Disabilities Act which provides facilities for disabled persons in public places.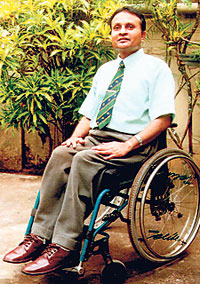 Dr. Perera
The Bench comprising Chief Justice Asoka de Silva, Justices S. Marsoof and I Immam granting interim relief to the petitioner, Dr. Ajith C.S. Perera, directed that no person on the grounds of his/her disability shall be discriminated or restricted in gaining access to new public buildings.
The Court also held that the owner concerned shall be equal partners and equally responsible for providing accessibility to disabled persons in buildings at public places. Dr. Perera who represented himself in the Supreme Court when a fundamental rights petition filed by him was taken up pleaded with the Court to direct the authorities to carry out a plan to make movement and other facilities available for disabled persons.
He had cited over 50 ministers in the Government for failing to implement the Disabilities Act. Dr Perera told Court that though there was an order issued few years back and which expires in October this year nothing constructive has been achieved for the improvement of the facilities made available for the disabled.
He said that there are about 16% of the population who are in this category and their needs to easy access to public buildings should be looked into. Senior State Counsel Ms. Demuni de Silva informed Court that the Government and the respective authorities concerned have taken measures to make alterations and improve the facilities for the disabled persons in most of the public places under Government control.
She said that with the present financial situation and difficulties faced it will take some time to implement all the requirements that the petitioner is asking for. But, Dr. Perera said that these are not correct because he being in the council for the disabled persons had visited many places like some of the post officers mentioned and these are not at all up to the requirement. The Court stated that the case was closed for the present.