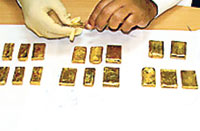 The gold haul
Four Sri Lankan nationals were arrested yesterday at the Bandaranaike International Airport by Customs officers for attempting to smuggle out gold from the country.
The four individuals, with four kilograms of gold hidden in their possession, were boarding a Jet Air plane bound for Chennai.
The gold, worth around Rs. 10 million, was confiscated and a fine of Rs.100,000 each was imposed on the four persons.