A Centre - Province dispute has arisen over the issue of land with Eastern Provincial Council canceling two projects proposed by the Central government, claiming that more than 35,000 acres in the Trincomalee district were to be allotted to two private companies without consultation with the Council.
The issue is likely to precipitate a constitutional crisis viz-a-viz the 13th Amendment and the powers relating to the granting of State lands.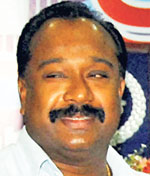 Minister Punchinilame
Nation Building Minister Susantha Punchinilame vowed yesterday the Central Government would go ahead with the project. In one of the projects, the Cabinet approved the provision of 15,000 acres of state land for a banana cultivation project in the Kantale area and in the second, the Government intended providing 20,000 acres more to the same companies for a cadju plantation.
The UPFA-controlled Eastern Provincial Council's Deputy Chairman M.K.D.S. Gunawardena told The Sunday Times, a group backed by a non Cabinet minister had started felling timber in the Kantale area, hunting animals and looting treasure from the area. This prompted the Council to intervene.
He said, subsequently a Cabinet paper had been approved in April to provide the land to the companies without consulting the Provincial Council.
Final approval for the project was given earlier this month by the cabinet. Mr. Gunwardena said under the second phase fertile land was being earmarked to be acquired. On Wednesday, the Provincial Council approved a motion that state lands in the province should not be distributed by the central government without consulting the Council. The private members motion was proposed by Provincial Council minister K.T.Thevarapperuma and seconded by Mr. Gunawardena.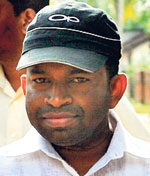 Chief Minister Chandrakanthan
Chief Minister, Sivanesathurai Chandrakanthan alias Pillayan said a firm decision would be taken soon on the question of distributing State lands to private companies without consulting the provincial council.
"The alienation of State lands in the Eastern Province to outsiders would hurt the people of the area, irrespective of race and other differences. State land in a Province cannot be distributed to outsiders without the consent of the Provincial Council," he insisted.
The Cabinet paper had been put up by Enterprise Development and Investment Promotion Minister, Anura Priyadarshana Yapa, claiming that it would provide 15,000 jobs for the people. However, the Sunday Times learns that non Cabinet Nation Building Minister Susantha Punchinilame was one of the architects of the proposed project.
Mr. Punchinilame said that since the project was approved by the Cabinet they proposed to go ahead with the object. While Provincial Council sources said they were using their powers to cancel the projects, government sources said the council could be overruled by the Central Government.
This is the second time the EPC has challenged a Central Government decision. Earlier it objected to the local government election law amendments.