The recent killings of civilians in Okanda and Buttala, in the country's south-east, have created tensions between communities that have been living in harmony for generations.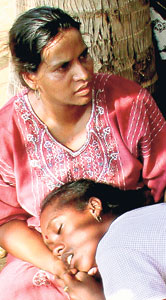 Grieving members of the dead fishermen's families.
The latest incident was the gunning down last Sunday of five Tamil fishermen from the village of Okanda. Five fishermen who had been celebrating the Avurudu returned to work on April 22. They put up a hut on the beach in Okanda, and set out to sea later that night.
Early next morning the bodies of the five fishermen were found lying on the beach by another group of fishermen. They had been shot dead and their boat and fishing gear set on fire.
The victims were identified as Kadiraveli, Sinnathmaby Uthayan, R. Ragunathan, Gunasundaram Vijayakumar and Anthanipillai Jeevarathnam – all of Abeysinghapura, Panama.
On April 13, nine civilians in Mahagodayaya, Buttala were gunned down by unknown persons.
According to police and STF sources, similar weapons had been used in the Buttala and Okanda killings.