The Japanese government has pledged to give Sri Lanka US$4 million in emergency humanitarian assistance, Japan's special envoy Yasushi Akashi announced at a press conference yesterday.
Mr. Akashi also called for better access for international and non-government organisations to camps for internally displaced persons (IDP), and greater transparency in government action on IDP issues.
Referring to his visit last week to IDP camps in the Vanni, Mr. Akashi said these camps compared less favourably to the camps he had seen during his January visit to Sri Lanka.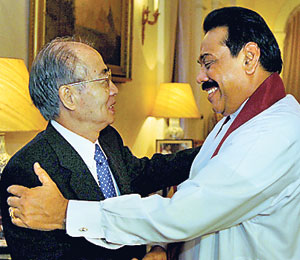 President Rajapaksa greeting Mr. Akashi at Temple Trees yesterday
"Life in the new IDP camps is quite rough and tough," he said. "This may be because the people in these camps are recent arrivals. I understand the government is doing its best to provide facilities for these people out of limited resources."
Mr. Akashi said some of the IDPs he met had expressed dissatisfaction with the food and the water supplies. "The refugees did not seem completely happy," Mr. Akashi said. "They want a better water supply and better quality food. The women are anxious to be united with their husbands and families."
Mr. Akashi said he had asked the government to speed up the process of reuniting families. He said the refugees were anxious to be resettled in their original homes or move to more permanent settlements. He said the government had given assurances that 80 per cent of the IDP population would be resettled by the end of the year.
Expressing concern for civilians still trapped in the no-fire zone, Mr. Akashi said the Japanese government hoped the LTTE would change its attitude and allow the civilians to move out of the area.
Mr. Akashi, who arrived in Sri Lanka on Thursday, met with President Mahinda Rajapaksa, Prime Minister Ratnasiri Wickramanayake and Foreign Minister Rohitha Bogollagama to discuss the current situation in the country.
He also met with Opposition leader Ranil Wickremesinghe and representatives of international humanitarian organisations.