Displaced people above the age of 60 are to be allowed to leave transit camps and find accommodation in charity homes or with relatives, Human Rights Minister Mahinda Samarasinghe said yesterday.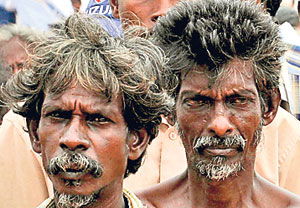 Elderly people in a transit camp
He said such people wishing to leave the camps would be allowed to do so, once their bona fides were cleared by the authorities.
"They will be allowed to move to elders' homes, the homes of relatives or friends in any part of the country," he said.
The move is also aimed at easing the congestion in the camps for displaced people following reports that several elderly people had died owing to various illnesses.
Some 2,000 such persons had taken up the offer and the list was likely to increase as more and more people arrived from the LTTE-controlled areas, Mr. Samarasinghe said.