COIMBATORE: Agitating activists of pro-LTTE outfits blocked a convoy of 80 military vehicles near Nilambur and damaged some of the trucks yesterday, alleging that the material being transported were meant for Sri Lanka, a Press Trust of India report said.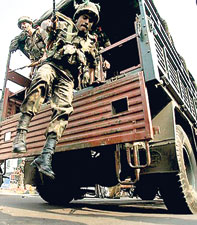 No arms transport to Lanka: File pic
Workers of Periyar Dravida Kazhagam, Marumalarchi Dravida Munnetra Kazhakam and some other outfits blocked the army vehicles, pulled out drivers and assistants of four vehicles and removed materials like tents, maps and training equipment, the report quoted police as saying.
According to the news report, they also deflated the tyres and broke the windscreens of the trucks.
Military personnel accompanying the trucks retaliated by hitting the activists with iron rods and wooden poles used for pitching tents. A TV reporter covering the event sustained minor injuries, police said.
Col Ajay Sharma, who also reached the spot, told reporters that the men were coming from Hyderabad after training. The army personnel left with their vehicles after police intervened.
The convoy was carrying material from Hyderabad to Maddukkarai regiment near here, police said. Some activists were "secured", they said.
The pro-LTTE activists have been alleging that India is providing arms to Lankan Army, which the Indian officials have denied.