The Government has decided on an amnesty for all LTTE members who lay down their arms and surrender and those currently held in detention without trial, Human Rights Minister Mahinda Samarasinghe told The Sunday Times last night.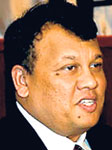 Minister Mahinda Samarasingh
He said the regulations for this purpose were being drafted in consultation with the Attorney General and they would cover anyone in the LTTE who agreed to lay down weapons and surrender to the security forces.
"This includes those still holding on to arms in the no-fire zone and continue to engage the security forces in hostile battle. However the amnesty will not be granted to those who have already been charged or convicted in courts. In these cases, the legal process will be applied," the minister said.
He said an undisclosed number of LTTE members had come along with the displaced people to the camps in the Wanni.
"While some have confessed they are members of the LTTE, others are being investigated for their links with the group," Mr. Samarasinghe said.
He said he was not aware of the exact number of the LTTE cadres among the displaced people, but other officials put the figure at about 3000. Mr. Samarasinghe said the LTTE members would be rehabilitated and later allowed to re-integrate with the others after investigators were convinced that they have shunned separatism.
Officials said that around 1000 LTTE people had already confessed their involvement with the LTTE and were undergoing rehabilitation in special transit camps situated in the Wanni and elsewhere.
Earlier the United Nations (UN) also urged the Government to consider a general amnesty for LTTE members who were willing to give up arms and surrender to the security forces.