A child prodigy in music, Sajjad Hassan sang his way into the local industry within a blink of an eye. His debut album – 'Kurulu Handin Paraviyo,' which he recorded at the tender age of 11, went on to become a hit on the Sirasa Rasa Risi charts. Outshining the giants of the music industry, the hit record was a significant achievement for a first-timer, and pre-teen at that.
Exploring his talent, over the recent years Sajjad has taken part in competitions – taking his competitors by storm and has experimented with and composed music, going on to even performing in the Maldives.
The now 21-year-old artiste is currently putting his superior vocals and his own musical arrangements together in the compilation of his latest album. Two of his most recently released singles will be featured in the up coming album. His first single "Mata Kiyanna Nam Epa" was a huge success when it came out last year easing its way into a hit record on the TNL, Rupavahini, Derana, Max and Sirasa charts.
Fresh out of the studio, his second single "Kadaliya" was released last Saturday. Approached by lyrist Nilar Cassim with the concept of a love song about betrayal, Sajjad composed the music after which Nilar wrote the lyrics to complement the music.
"Kadaliya is a bilingual song consisting of Sinhala and Tamil lyrics. The musical compilation is mostly Hiphop with a touch of an Indian melody," explains Sajjad.
Sajjad's music is predominantly of R'n'B, Hiphop with ethnic fusions. He says his versatile capabilities as a musician are projected by his constant experimentation with these genres, and the incorporating of distinctly Indian and Sri Lankan, classical and traditional music. Intent on making his music relevant and interesting, he has digressed from the ballads of his previous work, and has chosen to use vastly differing lyrical concepts.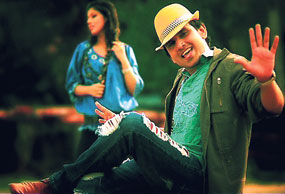 A scene from his music video
However, his focus will remain fixedly on delving deeper into these particular genres and the classical ethnic music. RnB and Hiphop are where his musical penchants lie and as for the classical, traditional influences, he says, "the unique ethnic styles must be retained if the local music industry is to be recognized outside of the island, instead of giving it up to ape the west and losing our identity while doing so."
Making a name for himself within a short span of time, Sajjad is as popular in the music industry as those he was rubbing shoulders with as a small fry after the release of his first album. His second album, which is a work in progress, is expected to be released by the end of this year. More information about Sajjad and his music can be found on his website www.sajjadhassan.com.