The Chamber Music Society of Colombo has in a relatively short time earned a reputation for delivering some of the most polished and thought-provoking concert programmes in Sri Lanka's classical music arena. A lesser known aspect of the Society's mission is to assist gifted new musicians along the path to a meaningful career in the performing arts.
Known as the Society's Emerging Artistes Programme, this initiative is aimed at enhancing the creative growth of dedicated new artistes, and helping connect this next generation of concert performers with discerning audiences. It involves an undertaking to provide careful mentoring plus opportunities, to the emerging artiste, for solo recitals and performances in collaboration with established musicians.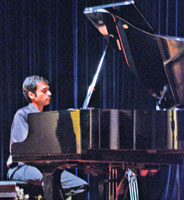 Louis Page Jr. Pic by Lasanda Kurukulasuriya.
Louis Page Jr. is the 2008/2009 Emerging Artiste of the Chamber Music Society of Colombo. He will perform in his second concert under the Emerging Artistes Programme on May 12 at the Russian Cultural Centre. This concert will showcase his chamber music collaborating skills with the principal players of the CMSC ensemble. The programme will include the piano quartet and trios of Mozart and Niels Gade, both of which will feature Page on piano.
In collaborating with Lakshman Joseph de Saram (violin), Dushyanthi Perera (cello) and Shogo Kanamori (viola), he will share the stage with some of the most sought-after and progressive classical musicians in the country.
After a successful solo recital in Colombo last year, Page embarked on a full schedule of teaching at the Yamaha School of Music in Singapore. He studied music and fine-tuned his skills as a performer in the United States, where he graduated from the California Institute of Arts in 2006 with a Bachelor of Fine Arts degree, majoring in piano performance. Before that, he followed performance workshop sessions at the Los Angeles Valley College. Page has performed solo recitals in Los Angeles, Santa Monica and Sri Lanka, and played with the Los Angeles Junior Philharmonic Orchestra.
The CMSC's Emerging Artistes Programme seeks out gifted musicians who can benefit from association with the society and its players, their vibrant interaction, and the dynamic created between themselves and their audiences. Those who fit the profile would be young musicians who have spent most of their lives honing their musical and technical skills, and have now reached a point where they are endowed with the considerable discipline and proficiency it takes to undertake a live performance career, at national and international levels.