Geoffrey Bawa defined modern living in Sri Lanka, inspiring architects and laymen alike to rethink spatial boundaries and create a tropical aesthetic based on site context, the surrounding environment and most importantly – a sense of community. Not surprisingly, Bawa drew international acclaim and an extended group of hardcore fans from all over the world.
A walk through any one of his buildings or landscapes makes you realize that his greatest gift to us is that of time and space. Time to slow down; space to breathe; a place where, for a while, the madness outside recedes.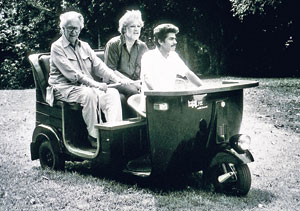 Bawa in Bajaj with Michael Ondaatje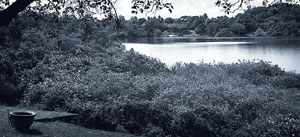 Lunuganga: Pic courtesy Photographic Society of Sri Lanka
Bawa's death anniversary falls on May 27 and the Geoffrey Bawa Trust has organized a week of special events to commemorate the occasion.
The events include tours of his most famous buildings (some little-seen private residences among them )as well as walks through his famed estate Lunuganga and 'Brief Gardens', the estate of his enigmatic older brother Bevis, who was also a renowned landscape artist.
From May 24 – 31, admirers of his work will have the chance to walk in Bawa's footsteps as it were, eat at his table and speak with his intimates.
Bawa's house at No. 11, 33rd Lane off Bagatelle Road, Colombo 3 will be open free of charge to pre-registered visitors on May 26, 28 and 31 at 9 a.m., 11 a.m., 2.30 p.m. and 4 p.m.
Pre-booked lunch and dinner will be available, within 24 hours' notice, throughout the week at No.11 (Bawa's Colombo residence) and Lunuganga (his country estate). There will also be a discount sale on books and photographic prints at No.11.
The events
To mark the late Bevis Bawa's 100th birth anniversary , an exhibition of Bevis Bawa's Art will be held at the Studio Gallery in Alfred House Road from Tuesday, May 19 to June 1. Entrance is free.
More exhibitions will be held from May 24 to 31. (Free entrance)
Lunuganga in Black and White, Photography by Dominic Sansoni will be on at the Barefoot Gallery.
Lunuganga - Suspended in Tranquillity by Anoma Wijewardene Art Group at Lunuganga.
Time Stands Still - Lunuganga Photography by the Photographic Society of Sri Lanka also at Lunuganga.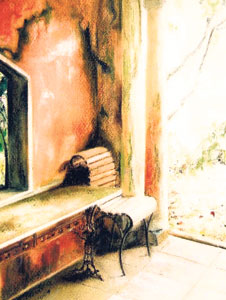 Midday in the hidden pavilion
There will also be Open Days at No.11, Geoffrey Bawa's Colombo Residence on May 26, 28 and 31 Entrance for this is free but pre-registration is required.
An Open Day at Lunuganga, Bawa's country estate will be on May 24.
Entrance is free but pre registration is required. From May 25 to 31, there will be a 50 per cent discount on entrance charge.
The annnual Geoffrey Bawa Memorial Lecture will be delivered by Singaporean Architect Mok Wei Wei on Friday, May 27 at 6 p.m. at Sri Lanka Foundation Institute. The lecture is open to all.
Bawa & Beyond Bawa Tours will be conducted by Architect Channa Daswatte, for which registration is required. These will be on:
May 29 - Parliament and Beyond Bawa houses of Architects,
May 30 - Colombo Tour of Bawa and Beyond Bawa and
May 31 - Lunuganga, Brief Garden and Geoffrey Bawa designed house down South with morning tea at Brief and lunch at Lunuganga
For more information on all events and tours, as well as registration and price details visit www.geoffreybawa.com.