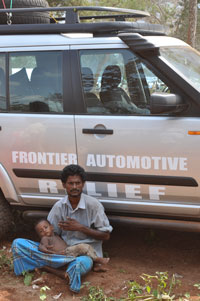 A group of executives from Frontier Automotive, together with friends visited the IDP camps last week in the Wanni with supplies and support from the Tissa Jinasena Foundation. Their overall impression was that the personnel of the camp were doing as much as they could to look after its inhabitants, a spokesman for the group said.
There were shortcomings but these can be identified and overcome. The camp was set up in a manner that can be streamlined. There is enough space to provide reasonable infrastructure for the IDPs to live in habitable conditions in the short term, said the group.
For those interested in supporting the numerous organizations collecting funds and supplies for the IDPs, their assessment of the urgent requirements are as follows:
-Provision of water for drinking and sanitation is a serious issue. Sending bottled water from Colombo is not economically viable. Some people were using bottled water to wash themselves. In the short term, a system of water tanks that are frequently replenished via bowsers would be a solution.

-The present strategy of transporting cooked food to the camps is also something that cannot be sustained. Kitchens have to be set up in the camp, so food can be cooked at site. Steps for the implementation of this are underway, and the kitchens should be set up by the end of the week. Once this is done, a steady flow of dry rations will be needed.

- Children require a regular source of milk.

- IDPs urgently require a resident medical team, and clinics dispensing basic healthcare. A rotary club is taking a team of doctors to the camp this week, for a few days. This function needs to be present on an ongoing basis.