Ceylinco Consolidated (Pvt) Ltd, made up of at least 96 companies both here and overseas, doesn't have any assets and was incorporated for the sole purpose of misleading the public, depositors of the failed Golden Key (GK) Co. have alleged in an affidavit to the Supreme Court.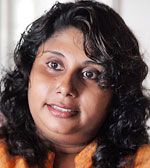 Dushyanthi Hapugoda
Treasurer of the GK Depositors' Association Ms. Dushyanthi Hapugoda, in an interview with The Sunday Times FT, said the affidavit shows that Ceylinco Consolidated was established to 'fool the masses' and confuse companies and individuals having dealings with them, in particular depositors. She added that they have urged the court to prevent the directors of these companies from selling the properties belonging to them.
Disclosing the plight of the depositors, Ms. Hapugoda said that the association office bearers are now being harassed by thugs and bodyguards of directors as well as private security personnel deployed by Ceylinco's top management. CISCO, a security firm in the Ceylinco Group, denied that their personnel assaulted depositors at the Mount Lavinia Courts last week. She added that members of the association including herself have been constantly receiving death threats.
In an emotional tone, she noted that most depositors are living like 'the dead' and 'therefore what is the use of killing such persons who are almost starving and suffering without money'. Four depositors have died due to worries over their investment since the company collapsed in December last year, she asserted. Although they died due to natural causes, the company should take full responsibility for their deaths. She said GK lawyers had brought cheques amounting to Rs. 200 million to the Mount Lavinia court during a previous sitting and if so, they should use this to at least pay the interest to depositors till the case is over.