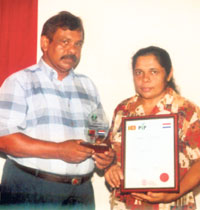 Mr and Mrs Kariyawasam
When neighbours in Gampaha complained about K.M.G.P. (Piyasena) Kariyawasam bakery's because of the discharge of waste water, he came up with a solution that not only satisfied the neighbourhood but also gained other advantages for the business.
His industry has got closer to nature, secured bio-gas by treating effluence from the bakery that saves the cost of three LP gas cylinders per day and won a prestigious award for the promotion of eco-friendly production process from the Ceylon Chamber of Commerce.
Mr Kariyawasam, after his Advanced Level Examination, moved to Gampaha from his home town of Baddegama, Galle, in 1978 to help a relative who ran a bakery.
An intelligent and hard working youth, while supervising the bakery, he physically attended to all the baker's work and mastered this tiresome and difficult industry-later establishing his own bakery at a rented premises.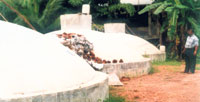 Recycling tanks
A key factor in the business doing well was in maintaining high quality and cleanliness. However while making sure the trays and utensils used to bake bread and pastry were washed daily it resulted in a lot of effluence being discharged to the environment, triggering complaints from neighbours because of the stench.
While the environmental problem persisted, his industry also expanded necessitating moving to his own land at Gampaha in Moragoda in 1997. But the environment issue persisted.
Responding to the concerns, the bakery industry entrepreneur told The Sunday Times FT that he consulted with various institutions, including the National Engineering Research and Development Centre (NERD) Ekala, Ja-Ela. There he met the late Dr A N S Kulasinghe and with his advice and the advice of other engineers of NERD he initiated the first step of converting the discharged effluent water into productive use.
In the meantime he was told about the 'Promotion of Eco-Efficient Productivity Project' (PEP) initiative by the Ceylon Chamber of Commerce (CCC), supported and funded by the Royal Netherlands Government to support private sector eco-efficient productivity. PEP registered Mr Kariyawasam's environmental programme under waste water recycling in 2007 and three huge concrete cylindrical tanks were constructed. The effluence is diverted to these giant tanks where the waste water enters the first tank, then passes into other two tanks. The water discharged from the third tank to the environment is pure as drinking water.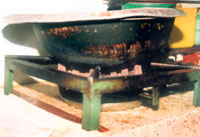 Bio gas cooker
The total cost of the project was Rs 8.6 million out of which 30 % was paid by PEP. More than 100 baking trays and other utensils are washed almost everyday and around 5,500 litres of water per day is used. This water plus, water from the toilets are also directed to these tanks. Mr Kariyawasam said that he has a small herd of cattle and all the waste collected in the cattle shed are also washed into these tanks.
Mr Kariyawasam said that his success was based on believing in the 'personal touch' as he had learnt all the basics since 1978 and is now an expert in baking technology. With expansion, he floated a company titled Piyara Bakery (Pvt) Ltd and enlisted his family members - wife Rani Kariyawasam, son Sameera and daughter Dulini as directors of the company. His son became an expert in bakery technology through a diploma course conducted by Prima.
In the bakery and other pastry manufacture Sameera could be seen with other workers and alongside his father work on bread and pastry making. His daughter Dulini got through her CIMA and she attends to all office and accounting work.
Mr Kariyawasam said that the investment of the company is now worth around Rs 50 million and further expansion is expected with his son and daughter joining as innovative technologies and ideas are bound to infuse their industry. One problem he faces now with bio gas is that there is no adequate pressure in using bio gas in cooking.
He is now in consultation with some Korean experts to rectify this problem. Mr Kariyawasam said his next step is to try and replace the diesel consumption, increase his cattle herd and also get into the coconut industry, where the coconut water could be utilized to produce bio gas energy or he would venture to wood gasification.