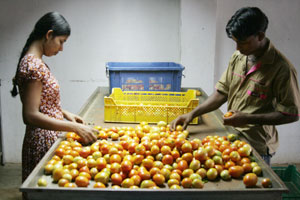 John Keells Holdings (JKH) says its success in supermarkets is not only selling products at 'best prices' but providing good customer service including a new initiative - purchasing goods through the Internet.
Krishan Balendra, President, Retail, Corporate Finance and Group Strategy, JKH said that the secret of their boom in the supermarket concept and swelling the customer base is not entirely due to selling some items at best prices but also on several of their own particular attributes mainly excellent customer service as they believe in the accepted norm -- the customer is the king in the domain of merchandising.
Mr Balendra, who is overseeing supermarkets, said in an interview that they are selling Dhal at Rs 149 a kilo whereas the controlled price is Rs 175 and Raw Rice at Rs 54 and Red Rice at Rs 57 per kg when the controlled price is Rs 60. He said that the reduction of prices of essential food is a great benefit for the poor and said that they are working hard to bring down the prices of other essentials that would benefit the poor.
Keells Supermarkets recently launched a 'best prices' campaign in what is seen as a direct competition to market leaders, Cargills Food City.
The chain is going to the market place with a tag that they are the cheapest in some consumer essentials as well as some branded products. The company is sourcing vegetable and fruits directly from the farmers to ensure best prices for consumer and reasonable prices to the farmer. They use the same technique in purchasing most other products too.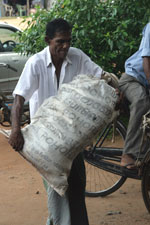 At the collection centre. Pix by J. Weerasekera
"You (can) order through the Web. We deliver the goods at your doorstep - the only supermarket chain in Sri Lanka that provides Web purchasing," he said, adding that they offer additional customer service to some mothers and senior citizens unable to prepare foodstuffs for cooking.
In such instances the supermarket chain undertakes to cut, chop and wash, whether it be vegetable, fish or meat and also they are prepared to provide grated coconut to customers.
Ms Roshanie Jayasundera - Moraes, Executive Vice President, and Sector Head - Retail JKH, said that almost all fast moving food items are price marked and prices are standard almost everywhere. Compared to the corner stores and sellers in public markets, she said their overheads are enormous but they are adopting modern techniques and other core marketing strategies to contain costs to a minimum while offering customers the highest benefits.
She said that with these motives in mind they started purchasing vegetable, fruits and other items from the producers direct wherever possible. She said they maintain several collecting centres - one in Tambuththegama (Anuradhapura), Embilipitiya and two in Nuwara-Eliya. They purchase rise from Dehiattakandiya and Ampara.
Recently journalists from The Sunday Times FT visited several activity centres which ensure the whole process of Keells supermarket chain on the move. Accompanied by Priyanga Dassanayake, Manager, Marketing, Jaykay Marketing Services (Pvt) Ltd (JKMSL) and Nihal Senerath, Senior Manager, Sourcing, JKMSL they first visited Tambuththegama Collecting Centre and also several farmers in the field in Nawakkulama.
When the farmers first started bringing their produce to the Collection Centres there were almost 50 % rejects. But soon the farmers adjusted to the Keells quality standards to reduce the bad produce to just 2 %. The farmers are supervised, monitored and provided with training.
Around 66 farmers supply vegetable and fruits at Tambuththegama and the centre is manned by Ruwan Chaminda. The produce is brought to the centre by the farmers, sorted, weighed, details fed into the network and the farmers could obtain their dues the next day through the banks. Farmer Sunil Herath in Nawakkulama said he cultivates eggplants, big onions and several other crops. About 500 kg per week is sold to the supermarket and he obtains a substantial profit. He said that he has built a house and living comfortably.
G. P. Chandrasiri and his wife cultivate several varieties of vegetable and sell about 600 kg to Keells per week. They have two children, and built a good house. Mr Chandrasiri said that they get a good profit of around Rs 50,000 per month and he said sometimes this rises.
The farmer produce is sent to the Peliyagoda Keells Super Central Distribution Centre (CBC) by about 11 pm to 12 am, transported in plastic crates where the usual waste is minimised in transport and handling.
Supermarket staff get training in the required skills to serve in the chain. Selection of youth between the ages of 18 and 25 are often from the villages subjected to walk-in interviews, selected and brought to Colombo for training at the KS Retail Academy.