Ceylinco Consolidated Chairman Lalith Kotelawala, in remand in connection with a fraud at Golden Key Credit Card Co, on Wednesday was transferred to the Prison Hospital, Colombo from the Merchant's Ward of the Colombo National Hospital, official sources said.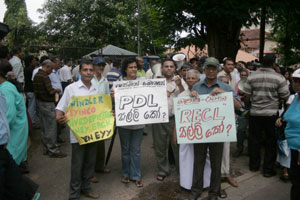 Golden Key protestors
He has been in remand custody since late February this year. At last week's hearing of the case in the Mount Lavinia Magistrate's Court, the JMO Dr Ananda Samarasekera submitting a medical report on the condition of the remand prisoner has informed the Court that Kotelawala has an heart ailment since 2006 but that he could transferred to the Prison hospital because his condition is not critical. This was confirmed by other doctors who examined the well-known remand prisoner.
The Supreme Court on Monday directed the Attorney General appearing on behalf of the Monetary Board of the Central Bank to submit a list of assets and properties belonging to every present or past director, Chief Executive Officer, Manager, Employee and agent of (GK) and other Related & Relevant Parties' of the Golden Key Credit Card Company and others who have been 'enriched through improper utilization of the assets of the company before the Court' on May 11. The Court was also of the view that the District Court has the jurisdiction under the provisions of the Finance Act to issue an order to seize the property of the Golden Key Company and sell them to recover the money. If the Monetary Board did not file action before the District Court, the Supreme Court said it has the power to do so.
The Supreme Court Bench comprised Chief Justice Sarath N. Silva with Justice Ms. Shiranee Thilakawardane and Justice K. Sripavan. The order came based on a fundamental rights application filed by 23 depositors of the Golden Key Co. alleging that the failure by the Monetary Board of the Central Bank and other authorities to supervise and control the activities of the company was a violation of their fundamental rights.
Attorney General Mohan Pieris PC submitted that the investigations were in progress to ascertain the assets that come under the umbrella of the respondent company and asked for further time to submit a list of assets.
The Court observed that Golden Key is an unregistered company and it appears that there was an improper utilization of the deposits by this company. Attorney at Law M.A. Bastion appeared for the petitioners. Attorney General Mohan Pieris PC appeared for the Monetary Board and the Governor of the Central Bank.
Wijedasa Rajapaksa PC appeared for the Golden Key Co, its Chairman Lalith Kotelawela and some of its directors and the Ceylinco Consolidated Ltd.. The hearing was put off for May 11.