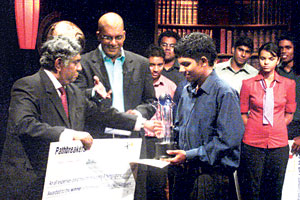 Mr. Ajith Abeysekera presenting the 1st Prize to Kushan Felix of St. Peter's College, Bambalapitiya.
Aspirations Education the leading career guidance and placement services centre successfully completed Pathbreakers 2 - Aspirations Conquest Reality TV Show for the second successive year in December last year which was presented by Aspirations Education and aired both on ETV and Derana.
Aspirations has broken new ground with its innovative concept and approach by presenting a fresh format fusing education and entertainment providing a challenging and exciting experience to the enterprising participants.
They were exclusively students between the ages of 15 to 19 and were initially tested with a series of questions and team challenges in a highly competitive environment. In contrast to Pathbreakers 1 held the previous year, where the contestant undergraduates were tested on their skills of identification, analysis and presentation, Aspirations Conquest was an altogether different yet an adventurous and an interesting show to the participants and was equally appealing and entertaining to the viewers.
The 1st phase started with 50 finalists selected from an aptitude test and interviews. They had to face a preliminary round consisting of 3 stages - a captain's quiz to test general knowledge, team challenge based on mathematical brain teasers and word puzzles and the all important show down. The winning team along with the best performer of the losing team were subjected to the weekly show down to test their IQ's. At the end of the 5th preliminary, 10 contestants were selected for the 2nd phase where they were given points according to their performance in the 3 stages mentioned earlier. Those who scored the highest number of points were placed as the 10 finalists in the order of merit.
The grand winner Kushan Felix of St. Peter's College, Bambalapititya was awarded an all expenses paid guided tour to Malaysia and Singapore including visits to world class universities and institutes in the two countries. The first runner up Radhika Shehan De Silva of Royal College, Colombo won a cash prize of Rs. 30,000/= while the second runner up Pamith Kodikara of Nalanda College, Colombo was awarded Rs.20,000/=.
Mr. Ajith Abeysekera - Chairman, Aspirations Education who pioneered and sponsored the 2 Pathbreakers shows had this to say about Aspirations Conquest. "The main purpose of organising an innovative show of this magnitude was to provide opportunities for students to show case their intelligence and innate talents, enhance leadership qualities and improve skills in teamwork. It gave them the rare exposure to come on TV and experience the intricacies associated with a reality TV show. They have learnt through this experience that it required much more than knowledge and intelligence to face a competitive show of this nature. One has to be smart, confident, quick on the uptake and also prompt with one's responses".
Mr. Abeysekera specially thanked the ETV/ Vanguard Production Team for coming up with an innovative concept and developing it into an interesting programme which brought out the team spirit and individual capabilities of the participants. A special mention was made about the foreign educational institutes represented by Aspirations Education, which contributed by way of co-sponsoring this reality TV show, specially the Navitas Group for being the main co-sponsor. His grateful thank also go to the Sunday Times for being the Print Media Partner and the Trans Asia Hotel which came in as the Hospitality Partner.
Judging from the requests that come from various quarters to sponsor similar shows regularly, Aspirations Education is more than convinced of the success it has achieved with the two Pathbreakers shows held during the past 2 years. The following quotes from the participants show the candid opinion of their new experience.
Pamith Kodikara, Nalanda College (1st runner up)
"Aspirations and ETV gave us a chance we never even dreamt of. It has certainly built confidence in me to do anything I want. I never thought Pathbreakers was going to turn out to be like this. I thought it had to do something with quizzes, but never expected it to be so big. After getting through to the Top 10,
I knew things were going to get tough and it did. We had to do weird stuff from creating adverts to picking garbage to street dramas. It was awesome fun specially working with 9 other totally diverse people, getting to know them and finding a bunch of totally awesome new friends. All in all, it was the biggest thing yet in my life. The chance to be on TV and recognition is just priceless. I just have to thank Aspirations for this amazing opportunity". Thameena Adnan, Leighton Park International College - Colombo 07. (one of the 10 finalists)
The competition is over. But I miss it a lot. Being the only girl I had loads of fun other than the part where we had to answer the questions individually. As stressed by the organisers, it's not about winning or losing. Now we know how to face cameras. A lot of experience working as a team, being a team leader and also meeting new people. I am so happy about participating and thanks to all of you at Aspirations & ETV for this amazing opportunity. Looking forward for the next Pathbreakers soon".