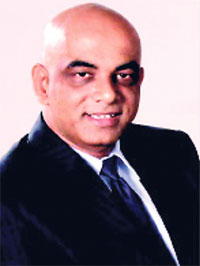 Ameer Ahamed. CEO- Sri Lanka, Maldives & Bangladesh FRANKLINCOVEY SOUTH ASIA.
IN these Turbulent Times the most Challenging moments are faced by the Leadership at every level of the organization. Global and local challenges in almost every industry is facing these Times. Economists are going in for many predictions with all facts and figures available. Governments are bailing out many financial and other institutions. In other words things around us are fast changing… BUT we need to have something in Leadership which does not change and to face these challenges. Dr. Stephen R Covey states this in a very simple way as to have "Principles in the heart and souls of people and organizations" so that we can face these challenges without much difficulty.
CEO for Sri Lanka, Maldives & Bangladesh for Franklin Covey South Asia says "We at Franklin Covey International" have been investing in Research & Development, for many years in this field of getting to greatness even in these challenging times,where no other company has even thought of doing so and have mastered the processes to help our clients succeed"
Getting a strategy done will be not as difficult as getting it executed. We have been helping Fortune 100, Fortune 500 and thousands of small and medium companies to internalize the process of Execution.
Today's Challenges .
Achieving Business results through great execution
Successful execution depends on the masteryof a few vitaldisciplines and principles.Learn to achieve specific results by increasing commitment and clarity around top priorities, building executionprocesses,identifying lead measuresof success and sustaining accountability around those priorities. Identify behaviorsandactivitiesthatcantruly"movetheneedle"inyourorganizationtoaccomplishgreatness.
Participantswilllearnto:
Get clear about the keyactivities that have maximumim pactonyourteam'stopgoals.
Institutionalize aproven systematic approach to executing on your key goals at all levels of the organization.
Translatestrategyintoactionbyfocusingontacticalimplementationatthefrontline,wherethereal worksgetsdone.
Adopt new and better ideas and tools to sharewith your team to help them execute with excellence.
InspiringGreatLeadersandManagers
"Oldschool"leadershipstyleshavebecomeirrelevantintheKnowledgeWorkerAge.Peoplecannotbe managedasiftheyaresimplyassets-orworse,liabilities-viewedintheorganizationalschemeonthesame levelasofficefurnitureorcomputers.Inordertounleashthepotentialoftheirteams,today'sleadersmust seeworkersas"wholepeople"(mind,body,heartandspirit)whohaveauniquecontributiontomakein movingtheorganizationforward.Leadersmustmanagetheknowledgeeachworkerbringstothetable,not justthetasksthoseworkersareresponsibleforcompleting.
Participantswilllearnto:
Inspiretrustamongdirectreports,superiorsandpeers.
Alignsystemsandworkprocessessotheyfacilitateratherthanhinderachievement.
Clarifypurposebyarticulatingwhygoalsareestablishedandhowindividualworkcontributestothosegoals.
Unleashtheuniquetalentandcontributionofpeopleontheirteam.
DevelopingGreatPeople
Today'sworkforceishiredwiththeexpectationthattheycanhitthegroundrunning,getresultsandworkwell withteams.Mostemployees,althoughtechnicallytalented,haveneverfullydevelopedtheskillstomanage themselves andcollaborate with others. Personal maturity, self awareness, disciplined habits and communicationskillsdriveperformanceandultimatelycreateindividualgreatness.
Participantswilllearnto:
Improveresultsatthepersonalandprofessionallevel. Developmoremeaningfulandproductiverelationships.
nIncreaseeffectivenessbyfocusingonthemostimportantpriorities. Franklin Covey has the Solution's for these challenges. All these solutions can be offered in South Asia and in Sri Lanka too, Franklin Covey Sri Lanka in present for the last 5 years and serving the corporate companies of Sri Lanka in many a solutions.
They can be contacted on 0777-900888 or info@franklicoveysrilanka.com
Franklin Covey Sri Lanka , 30 Amarasekara Mw Colombo 05.