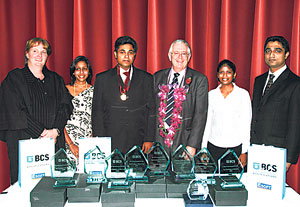 ESOFT Students that brought Honour and Recognition to Sri Lanka by winning 10 out of 11 World and Sri Lankan Prizes, together with Officials of the BCS and Dr. Dayan Rajapakse (CEO - ESOFT)
As a proud parent who has a son or a daughter completing his or her Ordinary Level examinations in a few day time with the final Maths paper, you would already be thinking of the viable options that your offspring will have to pursue higher education.
Consider the following: the British Computer Society (BCS) Professional Examinations gives your child the opportunity to be professionally qualified in IT with a UK Honours Degree Equivalent qualifications by the age of 18. Thereafter they can proceed on to the Masters level, or enter into gainful employment, thereby giving them a head start over the rest of the pack.
Consider the alternative : proceed on to the Advanced Level, and sit the exams at age 18, then think of a Degree qualification, at the end of which he or she would be a minimum of 21 years of age.
The BCS (the British Computer Society) is registered as a charitable organization in the United Kingdom and was established in the year 1957. Today they are celebrating 50 years of global service. Apart from coordinating ICT policy and various other aspects with the UK Government, the BCS awards various levels of membership which are obtained by sitting for a professional examination or via exemption.
Students that complete all three levels namely the Certificate, Diploma, and Professional Graduate Diploma together with the Project as well are awarded a qualification which is equivalent to a UK Honours Degree.
This year's Graduation Ceremony was held on the 11th of November, and ESOFT students shined brightly by claiming 10 of the 11 Awards that were on offer.
A few of the key points for a student selecting BCS are as follows:
No formal entry requirement other than being 16 years of age. This means that even students who have completed their O/L exams can gain entry
Fast Track Program - BCS examinations can be completed in as little as 18 months or less, where as a Degree program would take 36 to 48 months to complete.
The cost for completing BCS is approximately Rs. 250,000 whereas a Degree from a foreign university would cost Rs. 750,000 or higher
Further advancement is possible as a student may go on to do a Masters Degree, as even the local Universities accept BCS as a formal entry qualification.
When ESOFT opened its doors in the year 2000, we started out by offering professional courses at a grass-root level. However, we placed the emphasis on delivering quality education and our clients quickly realized the value that we provide, thereby catapulting us to the top in the Industry.
Today, we are the Leader in preparing students for the BCS professional examinations as well as the BIT External Degree examinations conducted by the University of Colombo.
BCS Full Time Programme
This is conducted as a full time, five days a week degree programme where students learn not only the BCS subjects, but are also given an in-depth knowledge of Computer Hardware, Software Development, Networking, Open Source Web Applications Development, J2EE, Microsoft / Sun Vendor Certification Courses, and etc. Our aim is to produce graduates who not only have paper qualifications, but are also capable of performing in the competitive practical environment of the private sector.
The course is scheduled for completion within 18 months. This means that even a student with O/L experience only can join our programme and complete the Degree within 18 months, whilst similar UK degrees would take a minimum of 36 months.
We are currently in the registration phase for Batch 9 which is to be started in February 2009.
BCS Part Time Programme
We are the Global Leader in the market, producing the highest number of candidates for the examinations, and our students have also gathered the highest number of World Prizes for their performances.
We conduct part time (weekend / weekday) and full time courses, thereby giving the students the maximum flexibility.
BIT Degree Programme from the UCSC
ESOFT is also the largest course provider for the popular BIT External Degree offered by the University of Colombo School of Computing. Students that have completed their O/L's can gain entry into this programme with our guidance and have the opportunity of obtaining a world recognized Degree.
ESOFT's Facilities
We always strive to provide the maximum facilities and benefits to our students, as we strongly believe that a healthy environment leads to a healthy performance.
To highlight a few:
We have four main branches (Colombo, Kandy, Kurunegala, and Matara) and the BCS and BIT programmes can be followed at any of these Centres.
Dedicated and qualified Lecture panel available as permanent staff.
Mega Computer Lab + interactive training labs with P4 Workstations + dedicated Internet connectivity.
Recreational Activities (cricket matches, outings, etc) and Indoor sports (table tennis, carom, etc.)
Fully Stocked Library
Separate study area
Student Counselling and Career Guidance Support.
Aside from these, we also provide additional services such as the conducting of mock examinations, arranging loan facilities for course fees, and more.
You as parents are invited to drop in and have a look at what we have to offer. You can also call us on 077-309 9 301 for more information.