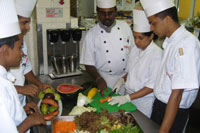 Unique collaboration brings TAFE NSW courses to Sri Lanka
CFL in collaboration with Technical and Further Education New South Wales (TAFE NSW), International College of Education (ICE) and Next School of Business will provide Australia Diploma to Degree courses in Sri Lanka. These courses will be
delivered under strict compliance requirements and students will be awarded with identical qualifications as their Australian counterparts
Messages
Message from the Chairman
Centre for Learning (CFL)
A student who completes secondary school today has two options: seek employment, or aspire to attend university. An employer who needs skilled staff has to first train the school leaver or the new graduate to do the job. The collaboration between the CFL and TAFE New South Wales Hunter Institute gives students a third option an internationally recognised technical qualification with clear learning and career pathways to employment and University. It gives employers access to skilled staff. It is our privilege to collaborate with TAFE NSW Hunter Institute and bring these valuable training courses to you.
Manick Rodrigo
Chairman, CFL and Chairman Barberyn Group of Companies
Message from the Director
TAFE NSW Hunter Institute
Every job seeker in Australia wishing to be employed in a professional field needs to show evidence of his or her competency to undertake the task. The Australian TAFE system is a comprehensive pathway through which such skills can be acquired. The competencies that you gain through TAFE courses will give you an internationally recognised qualification where ever you choose to seek employment and enable you to progress towards a University degree.
The Centre For Learning (CFL) and its partners with their experience in industry and education, and strong commitment to Corporate Social Responsibility, are excellent partners to bring TAFE New South Wales to Sri Lanka. We wish you an enjoyable and productive journey of learning with us. Phil Cox.Director, TAFE NSW Hunter Institute
What is in it for you?
Modular learning experience with a focus on practical skills so you are "job - ready"
With TAFE NSW courses you can choose the Diploma to Degree courses to suit your career and life style plans. You can fast track after O levels, or start after A levels. You can opt out after the Certificate or Diploma and you will be ready for work locally or overseas, You can also move on to complete the degree in Australia, secure that you already have the qualification and skills and knowedge sought by Australian employers. In Australia you can work part time during the semester and full -time during the vacation breaks and after graduation according to prevailing rules The unique Diploma to Degree courses enable you to save time and money. Study up to the Diploma in Sri Lanka and with TAFE NSW you can credit transfer to select universities and you graduate with two excellent qualifications. Business Studies, Human Resource Management,
Retail and Marketing Management
There is huge scope for rewarding career paths in the business world - if you have the right skills. Rapid change in both teaching and the way people think and work continues to have a significant impact on business, finance, sales, marketing and related areas. This subject covers courses which will equip you with knowledge and skills for a broad range of occupations and industries that are continually expanding and evolving through technological innovation, cultural and fiscal changes world wide.
Established under the advice of senior industry professionals from the corporate sector with a passion for empowering young people with knowledge, skills and competencies, the NEXT School of Business is currently the number one study centre in Sri Lanka for the Chartered Institute of Marketing (UK), with over 400 students enrolled for the current session.
Next School of Business is now offering the following courses accredited TAFE NSW Courses in conjunction with the Centre for Learning (CFL).
Diploma of Business
Diploma of HRM
Diploma of Business (Marketing)
Diploma of Business (Management)
Diploma of Retail Management
Hospitality & Tourism
The Tourism and Hospitality industry encompasses a huge range of businesses and jobs. When you train in this industry you create a portable career that offers experiences in Sri Lanka and overseas. You will have the opportunity to meet and work with interesting people and learn valuable skills. There are jobs available for trained staff in food and beverage supervision, hospitality management, accommodation and events management. This is a particularly attractive field of study for those who seek careers overseas. The Mount Lavinia Hotel with 200 years of fine hospitality have been leaders in hospitality training since establishing the International Hotel School. In 1991 Responding to the tremendous world wide potential for employment in the hotel industry, the owners have established the new International College of Education (ICE) to conduct the hospitality and tourism courses of TAFE NSW Hunter Institute in conjunction with CFL and are now offering the following courses
Diploma of Tourism
Diploma in Events
Diploma in Hospitality
Cert IV in Hospitality
Cert III in Hospitality (Commercial
Cookery) Cert IV in Hospitality (Patisserie)
Who should apply?
O' Level, A' Levels or mature age students
nSchool leavers who wish to train for a specific career as well as have a pathway to a University qualification through Diploma to Degree.
nMature age students with industry experience who wish to enhance their skills and qualifications and job prospects locally & overseas
nDegree holders who wish to enhance their prospects of working and living in Australia and overseas.
7) COURSE DESCRIPTIONS
Business, Management and Marketing Diploma of Business
This course develops skills in a number of functional areas focusing on sales Management. This will include Administration, Management of sales staff, Business development and Channel management of an
organization, including administration, marketing, human resources,
management and business development.
Diploma of Human Resource Management
This course will develop your skills in human talent management,
giving you insights in to modern HR practices as well as developing
your knowledge in the more operational aspects of HR.
Diploma of Business (Marketing)
This course will teach you to develop marketing strategies, develop a marketing plan, manage the marketing process, develop and manage direct marketing campaigns and evaluate international marketing opportunities.