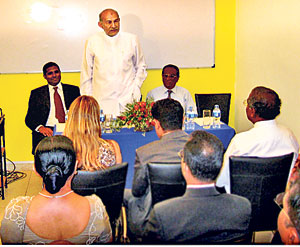 Any parent's dream about their children is to provide a good education and make their lives life comfortable. This has become a task which has to be done with extreme care and caution as everything around us is so sophisticated today with the new developments. Today, students irrespective of their curriculum whether international or local at the end of their secondary education, there is an increasing tendency in seeking admission to overseas higher educational institutes of repute. The question which comes to a parent's mind today is whether their children being properly and adequately guided, in their selection of the countries and the educational institutes?
PATHE Academy -Peoples Academy for Tertiary and Higher Education plays a very important role in this process, in addition to providing tertiary and higher education locally. Any student who visits PATHE Academy www.patheacademy.org aiming overseas education gets absolutely free career guidance with no mistakes. Once that is thoroughly attended rest is assured, at least the student will not be stranded halfway for not choosing the right path or right place of study.
PATHE has widened its horizons in the field of Overseas Student Placement for higher education having entered into agreements with highly reputed educational institutes in UK, USA, Canada, Australia, New Zealand, India, Belarus, Nepal and many more countries. PATHE's Overseas Student Placement Division (OSPD) No: 111 1/2, Maya Avenue, Colombo - 06. Tel: +94 11 2586418 is handled by a dedicated team of professionals who had been in the field for more than a decade.
PATHE has been in the field of private education over a decade and a half. Hence is equipped with a quality staff of immense knowledge and experience. It provides locally, from school to professional and vocational higher diploma level programmes. It even includes language testing courses like IELTS / TOEFL which attracts a large number of local students and a fair number of students even from the Republic of Maldives.
All these students when they complete the desired course of study are equipped with a qualification either to find employment locally or abroad or seek admission to overseas educational institutes. Many of these qualifications allow credit transfers and gain exemptions from the intended course of higher education, from the respective institutions, with whom PATHE is affiliated.
PATHE has designed several twining programmes which lead to a degree, in collaboration with foreign educational institutes for the benefit of our students. Under these study programmes the initial years of studies could be followed here and then final year or two in the United Kingdom.
This reduces their financial burden to a greater extent as the initial years of studies are done in Sri Lanka followed with guaranteed admission to the 2nd and final year. These programmes are designed so, even students with G.C.E. (Ordinary Level) qualifications could enroll and end up with a world recognized degree. Even otherwise the qualifications achieved studying locally is well recognized by the local public and private sectors, which makes matters easy when finding employment locally.
One among the many twining programmes is CTH (Confederation of Tourism & Hospitality) Management Programmes, hotline 0773171300 which are designed to offer the knowledge equivalent to the first and second year of a British university degree. Thereby PATHE has been authorized to conduct classes in Sri Lanka, for Diploma in Hotel Management, Diploma in Tourism Management, Advanced Diploma in Hotel Management & Advance Diploma in Tourism Management. Over seven thousand students study CTH qualifications every year and these programmes are well accepted across the hospitality, tourism and travel industries. The most significant fact about CTH programmes is that it requires no specific educational qualifications to enroll as a student, although it is desirable to have completed formal secondary education.
Also PATHE conducts classes for Nursing HND NVQ level 2 (Higher National Diploma) and HND in Pharmacy, which are highly accepted by the local and overseas health sectors alike.
For information contact Address: No : 37, School Lane,Colombo-03 ,Sri Lanka
Telephone: +94 11 5377752/ 2591271 / 2502012