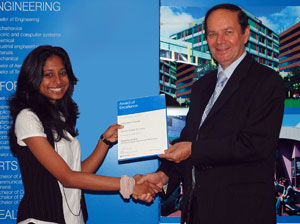 Mr. Alan Robertson Dean of Monash College Sri Lanka awarding Samantha Perera with her award of excellence
Every semester, the Board of Studies at Monash College Australia award individuals who achieve the highest results in their field of study from all Monash Colleges across the globe. In the year of 2008, Monash College Sri Lanka (MCSL) has produced 3 outstanding students who achieved awards of excellence as follows.
"I chose Monash College SL as it was a more affordable alternative to studying abroad as well as a place closer to home. My time at Monash College had been really fun and interesting. My friends and I enjoyed our lectures and practicals as well as our time outside the lecture hall. All in all it was a very memorable experience for me. I will be pursuing the Bachelor of Engineering (Chemical) degree at Monash University Malaysia in February 2009."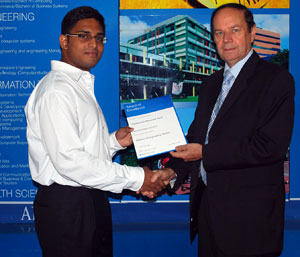 Mr. Alan Robertson Dean of Monash College Sri Lanka awarding Habeebullah Mohamed Illiyas with his award of excellence
"I have always wanted to study at Monash University and this was a perfect opportunity for me as I was able to commence a Monash degree right here in Sri Lanka. I was able to experience the Monash education style and made great friends in the process. Initially it was a little challenging as switching from an A-Level study pattern to Monash study pattern was different. Monash allows the student to be an independent learner and challenges you to greater heights. I will be pursuing the Bachelor of Arts degree in Monash University Australia. My advice for the new students is to not wait till the last minute to do your work. Prioritize and keep up with your weekly assignment but don't forget to have fun because you are at university after all."
Mr. Prinesh Fernando
Diploma Part 2 Engineering MCSL Commenced in 2007 February. Entered with Local A/Levels Currently studying Bachelor of Engineering at Swinburne University, Australia.
As parents, finding your child a suitable education, securing their future and giving them the global exposure essential for success in life are the bounden duties. Students can join Monash with their Advanced Level results and commence their first year of their Monash degree right here in Sri Lanka.
Monash College is a subsidiary of Monash University and provides a guaranteed pathway to obtain a high quality Monash University qualification. Monash University is ranked top 50 in the world* and is a member of the prestigious Group of 8 universities in Australia.
Monash College Sri Lanka offers both local and international students accredited undergraduate diploma programs in Engineering, Business, IT and Arts following successful completion of O/Levels or A/Levels. These diplomas provide direct entry into second year of more than 50 selected Monash degrees in Australia or Malaysia.
Students are supported by highly motivated and experienced lecturers of which 70% are PhD qualified. They are all approachable and eager to support and provide additional attention as needed. To find out more about joining the prestigious Monash Community right here in Colombo contact us on 0777 44 99 55 or 0777 44 99 66.
Mr.Habeebullah Mohamed Illiyas - Award of Excellence: Diploma of Engineering Studies
Ms.Samantha Perera - Award of Excellence: Diploma of Arts
Mr. Prinesh Fernando - Award of Excellence: Diploma of Engineering Studies