The glory in which Colombo city was bathed for a week during the SAARC Summit seems to be fading away and Colombo seems to be transforming to its old self, with all attempts to make the city beautiful being removed and the promises that the beautifying would continue even after the Summit, forgotten.
Some temporary measures taken to make the city look complete, promise more disasters in future. Gullies which were temporarily covered for a week still remain unattended with the risk of flooding from the expected heavy rains.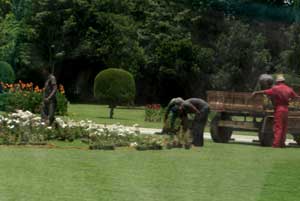 Flowers that suddenly appeared in the premises of the BMICH during the SAARC being removed by those who sponsored flower beds. Pix by J. Weerasekera
The release of the dogs captured at the BMICH premises prior to the Summit took place on Thursday when 19 of the 28 dogs were set free to the spots where they dwelled.
According to the Colombo Municipal Council Chief Veterinary Surgeon 19 of the dogs were adults while the remaining were pups. The pups and two adult dogs which were in a weak state are still in the CMC dog pound, until they are provided with safe homes.
He said that 16 dogs captured from the Viharamahadevi Park would be released this week but some of the park users have opposed the release of the dogs back to the park.
The Sunday Times also learns many flower plants and pots were taken away by the sponsors who provided them. The flowers which were planted to create a pleasant view too are being removed.
It was also seen that even in the BMICH, most of the flower beds have been shifted after the SAARC Summit.