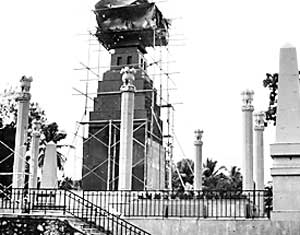 The IPKF memorial
Questions are being asked as to who will unveil a monument in memory of Indian soldiers killed during their peacekeeping operation in Sri Lanka after plans to get it opened by Indian Prime Minister Manmohan Singh during the SAARC summit failed, The Sunday Times learns.
The Foreign Ministry claimed the unveiling of the war memorial was not in the Indian's Prime Minister's schedule.
Indian High Commission spokesman Dinker Astana declined to comment on the matter. The war memorial was constructed by the Sri Lanka Navy on the Jana Kala Kendraya premises near the parliament complex.
The IPKF lost nearly 1000 soldiers in Sri Lanka fighting the LTTE during their peacekeeping operation from 1997 to 1990.