The Government Medical Officers' Association (GMOA), reacting swiftly to an in-depth probe by The Sunday Times on a major crisis at the National Blood Centre (NBC), is urging the Health Ministry to hold a transparent, impartial and urgent inquiry on what it says is "a medical emergency".
The Sunday Times in its investigation headlined, 'Whose hands have blood on them?' (PLUS Cover of August 3) spoke of serious allegations against the NBC that expired apheresis kits were used on trusting donors and also critically-ill patients. The GMOA has stressed that the ministry response must be quick to help maintain one of the best blood transfusion services in the world.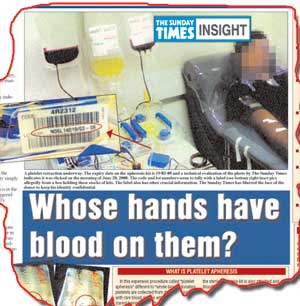 Our last week's report on the NBC crisis
"We need a quick but thorough probe. If expired kits have been used it is a very serious issue and necessary action should be taken against those responsible along with recommendations on how to prevent a recurrence," said Dr. Upul Gunasekara of the GMOA, explaining that in Sri Lanka, unlike in other countries, people do not sell but donate their blood to help save lives.Donors' trust in the system must be restored, and restored quickly, he said. "Speed up the investigation and allay fears. Check out whether excess kits were ordered," Dr. Gunasekara added.
In its report, The Sunday Times urged President Mahinda Rajapaksa to set up a Commission of Inquiry to investigate and ascertain beyond the slightest doubt whether the NBC did or did not use expired kits. This was in the light of further allegations of a cover-up by the Health Ministry.
Currently, the Commission to Investigate Allegations of Bribery or Corruption, the Auditor-General's Department and the Health Ministry are conducting investigations into the matter.
The kits, each costing around Rs. 26,000, are imported from two American-based companies, but the controversy over expired kits has erupted with regard to the imports from one company. These kits are utilized along with high-tech machines to harvest only platelets, as opposed to 'whole blood' donation from donors. The platelets, thus harvested from donors that can be kept only for five days, are matched and infused to very ill men, women and children suffering from diseases including cancer, dengue and heart problems.
In another function, these sterile kits are also used as "therapeutic plasma exchange" kits to withdraw diseased plasma from very critical patients such as those with Guillain-Barre Syndrome etc., in the Medical Intensive Care Units and the Neuro-Intensive Care Units of the major hospitals, after which fresh plasma is introduced to their circulatory system.