Many people are known to have fallen into the bad books of loved ones with their Short Message Services (commonly known as 'SMS' text messages) from their mobile phones, but beware, now the Sri Lankan courts have gone to the extent of accepting them as admissible evidence in a case.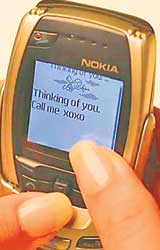 Legal status for SMS
In a landmark judgment last week, Colombo High Court judge K.T. Chitrasiri accepted photo-copies of screen-shots of these 'SMS' to be marked and produced in evidence in a money-recovery case.
In his 10-page verdict in the Marine Star (Pvt.) Ltd. case, the judge allowed photo-copies of SMS copied from messages received on a mobile phone, to prove admission of liability by the defendant Amanada Foods Lanka (Pvt.) Ltd.
He said: "As it concerned an important issue on rules of evidence, especially at a time when there is rapid development in technology taking place, Court decided to consider the issue carefully".He said it did not fall into the category of 'Primary Evidence' under Section 63 of the Evidence Ordinance, but into that of 'Secondary Evidence', which includes copies made from the original by mechanical process which in themselves ensure the accuracy of the copy, and copies compared with such copies.
The judge also held that SMS texts could be accepted under the Electronic Transactions Act No. 19 of 2006, and that it extended to images appearing on any substance such as a computer screen, according to the circumstances of each case.