Three men were shot dead at Lucas Road in Thotalanga at about 8.45 p.m. on Friday, by an unidentified group. The three who had been travelling in a car when the incident occurred died on the spot, police said.
The three were identified as Sathyanandan (32) from Thotalanga, Wijeyakumar (30) from Modera and Anura from Weliweriya.
DIG Nimal Mediwaka said police suspect the assailants were underworld drug dealers who had come to that particular location for some sort of transaction.
A team has been appointed to conduct the investigation, DIG Mediwaka said, adding that the suspects would be arrested as soon as possible.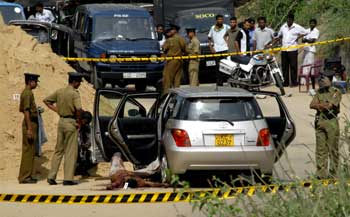 The scene of the killing.