UN agencies are gearing to accommodate some 200,000 civilians who may enter the Government-controlled areas from the LTTE-held Wanni as further heavy fighting was reported during the past two days.
Colombo UN office Spokesman Gordon Wise said UN agencies were ready to provide temporary shelter and food to tens of thousands of newly displaced people from the Wanni.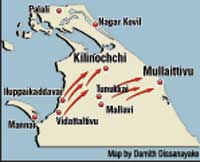 The refugee movement
He said that 55,000 to 75,000 civilians had already been displaced in the recent fighting adding to 125,000 people already displaced in the Wanni. But only 800 had been able to move out to Government-controlled areas so far.
The UN moves came as air and ground attacks by the armed forces continued on Friday and yesterday.
In one incident, 17 civilians including Mullaitivu's Government Agent Emelda Sukumar and the wife of the Medical Superintendent were injured in a shell attack on their official quarters in the Mullaitivu town. The LTTE blamed the military for the attack, but the Army denied the allegation.
On Friday public servants in Mullaitivu launched a protest opposite the GA's office demanding the Government and the LTTE should ensure their safety by declaring "safety zones' where State offices are located.
Mullaitivu's Additional Government Agent K. Vishvanathan told The Sunday Times that there were about 128,000 displaced people living in temporary shelters and in the open areas in the district. He said about 28,000 were newly displaced people and some of them were from Mannar, Mallavi and Tunukkai.
Mr. Vishvanathan said that because of the huge increase in the number of displaced people and limited supplies, food was supplied to them only once in two weeks instead of once a week as was done earlier.