Pre-election violence in the North Central and Sabaragamuwa provinces took a bloody turn yesterday when at least two different party supporters were gunned down in separate incidents, resulting in the interdiction of two police officers for neglect of duty.
The first incident occurred at Jaffna Junction in Anuradhapura in the early hours of yesterday morning, when an activist from the main opposition United National Party (UNP) was shot and wounded by a group of persons travelling in two vehicles, police said.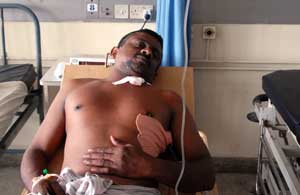 Lalith Hettiaarachi, the JVP activist receiving treatment at the National Hospital yesterday
The youth, who suffered gunshot injuries to his right leg, was rushed to the Anuradhapura hospital where he underwent surgery, a UNP spokesperson told The Sunday Times. The incident occurred around 1.30 am on Freeman Mawatha, close the Anuradhapura town.
According to the UNP spokesperson, the attackers arrived in two vehicles and confronted UNP supporters who were returning after taking part in a street campaign. The attackers were allegedly pro-government supporters, he said.
Senior Police Superintendent H. A. Ilangasiri confirmed the incident to The Sunday Times, but stopped short of saying who was responsible until investigations were completed. He said two sub-inspectors had been interdicted with immediate effect for neglecting duties while on mobile patrol. He declined to say whether the action was connected with pre-polls violence.
He said the police had received 69 elections-related complaints so far. Meanwhile, a JVP activist was shot and seriously wounded by a gang while helping to put up a stage for polls campaigning at Daham Mawatha in Ehiliyagoda, Ratnapura. The incident took place in the early hours of yesterday morning.
The victim, identified as Lalith Hettiaarachi, was rushed to the local hospital and later transferred to Colombo as his condition worsened, police said.
The shootings were the two most serious incidents to be reported since campaigning for the August 23 provincial council elections began two weeks ago. The police are bracing for more violence as the campaign heats up, and are accordingly increasing safety measures and boosting patrols in both provinces.