No cause for panic, all health measures in place – DG
View(s):
Only 1 death from listeriosis confirmed in Sri Pada area; 2 more being investigated
but unlikely to be due to same bacterium
By Kumudini Hettiarachchi  
"Do not panic," a top level health official said, assuring that prompt measures have been taken to investigate all aspects of the three deaths with a link to the Sri Pada area and suspicions of being caused by listeriosis.
The Director-General of Health Services, Dr. Asela Gunawardena, told the Sunday Times that only one death has been confirmed as being caused by listeriosis. This was a female patient in her 50s who was in a high-risk group for this infection, who had been admitted to the Ratnapura Teaching Hospital. She also had several co-morbidities.  
"The two other deaths (of teenagers) are still under investigation and there seems to be no connection to listeriosis," he said, urging people not to panic and assuring that all ground-level measures have been taken to check out whether the infection is prevalent in the area.
Listeriosis is caused by the listeria bacterium through contaminated food including raw milk and water. (See graphic)
When contacted, the Director of the Ratnapura Teaching Hospital, Dr. Anoja Rodrigo, also said that tests have confirmed listeriosis in the first patient and the other two deaths are still under investigation.
This was while the Media Convener of the College of Community Physicians and Senior Registrar in Community Medicine, Dr. Naveen de Zoysa, also added his voice to allay any concerns among the people.
"One death has been confirmed as being from listeriosis and the others are under investigation. Laboratory testing is the way to confirm or dispel suspicions and that is being done," he said, adding kalabala wenna oney nae (there is no need to get agitated).
Dr. de Zoysa earnestly appealed to social media to refrain from sending out messages without proper checking and verification, as it could cause panic among the public.
Another Health Ministry official echoing that there is no cause for panic, pointed out that there is thorough ground-level surveillance of how food is cooked, handled and served. There does not seem to be a connection between the woman's death and the deaths of the teenagers and so far no "point source" of listeriosis had been found.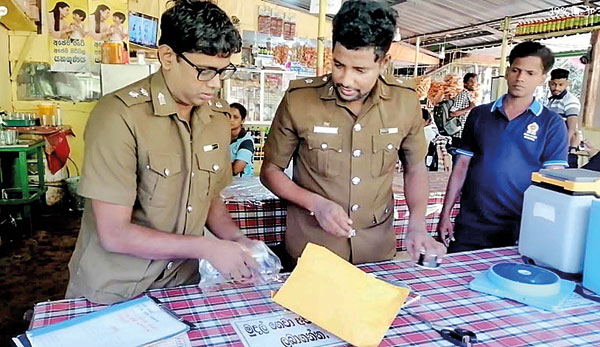 "Health officials are very vigilant to determine whether this one patient was the tip of the iceberg or not and whether there are those with mild or even asymptomatic listeriosis, to be able to catch the signs of an outbreak early and mop it up," the official said, adding that they are also on the lookout to help Sri Pada pilgrims who may feel ill once they have undertaken the journey.
These assurances came as Medical Officers of Health (MOHs) with their teams of Public Health Inspectors (PHIs) in the area, fanned out including climbing up Sri Pada to collect food and water samples to be checked for listeria.
The Sri Pada season is in full swing, with nades (pilgrim groups) taking hundreds of people up this holy mountain daily.
A source at the office of the Ratnapura Regional Director of Health Services (RDHS) pointed out that the first death seems to be an isolated one. The three deceased were not from the same family or even the same nade, while the food that the first patient, confirmed as having listeriosis, had eaten had been brought from elsewhere, initial findings have indicated.
There are six trails leading to Sri Pada's summit – Hatton-Nallathanni; Ratnapura-Palabaddala; Kuruwita-Erathna; Maliboda; Murraywatte; and Mookuwatte, with the most popular being the first one.
While the first patient had accessed the batik shop from Kuruwita-Erathna, the teenagers had gone up Ratnapura-Palabaddala but not even at the same time.
The source added that during the season, public health officials do regular checks and also carry out food safety awareness campaigns which have now been intensified.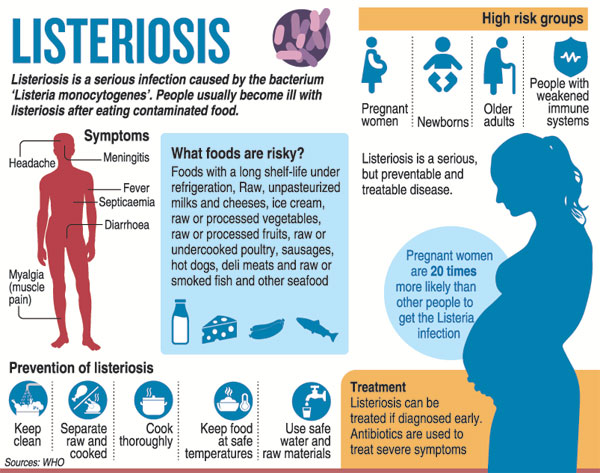 The specifics of the situation gathered by the Sunday Times are as follows:

There have been three deaths at the Ratnapura Hospital, while one other patient is in the Intensive Care Unit (ICU) currently. All of them are being associated with Sri Pada.

Of the three deceased, the 50+ woman – who had been helping her daughter at a batik shop located on the way to Sri Pada summit – had been admitted with symptoms such as vomiting, headache and altered consciousness. The woman was reportedly rearing cattle at her home, which could have been a source of her infection, it is learnt. The cattle are being checked for the infection.

The other deaths are of two unrelated and unconnected teenage girls who had also come with similar symptoms. Many doctors stressed that these symptoms are common to numerous illnesses.

One of these teenagers had died of bowel necrosis [cellular death of the bowel due to reduced blood flow to the gastrointestinal (GI) tract].

It is understood that bowel necrosis could be a late stage finding of different disease processes. It is a serious condition and often fatal.

The second teenager had died of pyelonephritis, a complication of an ascending urinary tract infection that spreads from the bladder to the kidneys.

Meanwhile, the good news is that the teenage girl, once again a Sri Pada climber, admitted to the ICU is on the way to recovery. Her condition has been diagnosed as rhabdomyolysis and pyelonephritis.

Rhabdomyolysis is a serious syndrome due to a direct or indirect muscle injury. According to 'WebMD', it results from the death of muscle fibers and release of their contents into the bloodstream. This can lead to serious complications such as renal (kidney) failure.

Food safety vital in warding off infection

Listeriosis is not a new but well-known disease. It is usually found everywhere in the world including Sri Lanka, said Consultant Microbiologist Dr. Sujatha Pathirage of the Medical Research Institute (MRI), Colombo, explaining that it could sometimes cause complications such as meningitis in vulnerable groups. But there should not be panic as it is treatable and curable when diagnosed early.

She said that in western countries outbreaks are common as they have vulnerable groups such as the elderly who are in an immuno-compromised state and processed food which could be a source of infection, is also readily available.

How do you prevent listeriosis?

Food safety is of paramount importance, stresses Dr. Pathirage, pointing out that raw milk should be boiled before consumption or pasteurized/sterilized milk should be used. Meat should be cooked well. When eating raw vegetables in the form of salads and fruit, they should be washed thoroughly. There is also a need to keep table and counter-tops scrupulously clean to prevent cross-contamination.

She added that the MRI is testing food and water samples from the Ratnapura and Sri Pada areas and it takes about a week to complete the tests. They also do routine checks on samples from across the country not only for listeria but also other micro-organisms.
The best way to say that you found the home of your dreams is by finding it on Hitad.lk. We have listings for apartments for sale or rent in Sri Lanka, no matter what locale you're looking for! Whether you live in Colombo, Galle, Kandy, Matara, Jaffna and more - we've got them all!