Sprouts of Democracy
View(s):

For the first time in the history of Sri Lanka, the newly elected members of Children's Shadow Pradeshiya Sabhas (CSPS) were sworn in on Monday, March 6, 2023, at the Sri Lanka Foundation Institute in Colombo. The elected members were given an orientation on citizenship, participatory governance, Sri Lankan electoral system before taking the oath.

This was initiated by The Social Architects (TSA), a Charitable Trust working to promote participatory governance in Sri Lanka, having seen the need to popularize the present Sri Lankan Local Governance structure among the preteens and teens, to become the agents of democracy. The children who took the oath were elected to the respective Children's Shadow Pradeshiya Sabhas (CSPS). These children represented 10 districts, Ampara, Anuradhapura, Batticaloa, Ratnapura, Jaffna, Kilinochchi, Matara, Mullaitivu, Nuwara Eliya and Polonnaruwa.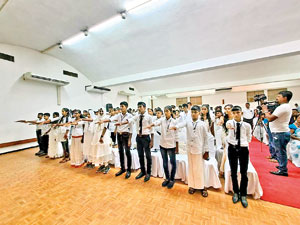 The programme was titled Sprouts of Democracy. Supported by TSA, on February 16, 2023, children from these 10 districts cast their votes using a mixed proportional system and elected five members from each CSPS (in total 95), who were their representatives from three parties, namely Children for Earth, Children for Sustainable Development and Children for Fair Resource Allocation. For the first time in the history of Sri Lanka, 95 newly elected representatives from 19 Children Shadow Pradeshiya Sabhas (CSPS) belonging to 10 districts were sworn in so as to improve the standards of their respective districts and create a better Sri Lanka.
The swearing-in-ceremony was a culmination of a series of programmes conducted over the last six months, where TSA mobilized children between the ages of 11-15, in consultation with their parents/guardians, to create a community of children called Sprouts of Democracy (SoD). The goal was to introduce participatory governance to the children so they could learn, participate, practice and enjoy democracy at a young age. They were given identity cards as proof of their association (citizenship). TSA ensured that there was female representation in the democratic process. This programme was conducted by TSA so as to introduce the future generation to an election process.
After the swearing-in-ceremony, the elected members who represented all three communities, Sinhala, Tamil and Muslim, aired their views on why they were part of the programme and what their plans were to develop their respective districts. Working together to achieve the vision of all three parties, protecting the environment, sustainable development, and equal distribution of resources were some of the plans shared by the children. The central thread that combined all their ideas was that irrespective of ethnicity, religion or gender, it was essential to work together to make a positive impact and create a promising future for Sri Lanka and bring about a change for the better.
Lishanthi Wijewardene
HitAd.lk is the best and biggest mobile phone market in Sri Lanka, and we guarantee you will find what you need here from our extensive listing of mobile phones for sale in Sri Lanka. Whether it's a budget-priced smartphone for communication, or higher end features with advanced connectivity, there are many different options from which to choose from on our site!