Saegis Campus welcomes the World Class Academic Prof. Lalith Samarakoon
View(s):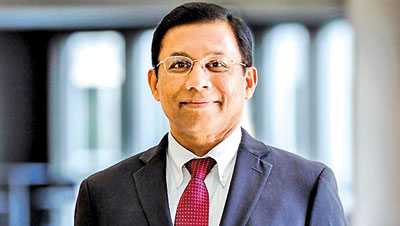 The Management and staff of Saegis Campus had the distinction of welcoming their new Adviser to the Vice Chancellor, Lalith P. Samarakoon, Professor of Finance and Financial Economist who had been the Secretary General and Chief Economist of the National Economic Council of Sri Lanka and the President of the Sri Lanka Finance Association.
He is also a Chartered Accountant Sri Lanka and a Certified Financial Analyst (CFA). Prof.Samarakoon is Sri Lanka's first professor of finance and widely known and respected as the foremost authority on Sri Lanka's financial sector.
Prof. Samarakoon holds the honour of becoming Sri Lanka's first Professor of Finance with a meritorious triple promotion. He has served as a Professor of Finance at University of Sri Jayewardenepura, University of Houston, and University of St. Thomas in Minnesota. With nearly three decades of contribution to Sri Lanka's economy and finance sector.
Prof. Samarakoon as an economist has had nearly three decades of extensive advisory experience with multilateral institutions such as the World Bank, USAID, ADB, JICA, Central Bank of Sri Lanka, Ministry of Finance, Securities and Exchange Commission of Sri Lanka and Colombo Stock Exchange (CSE) and private sector experience in areas such as investment banking, business restructuring, economic and financial analysis and fund management.
He holds experience from public sector to private sector, Local to global and east to west in the field of economics.
Professor Samarakoon was the architect of the restructuring of the Faculty of Management Studies and Commerce of the University of Sri Jayewardenepura.
He has rendered his service as a member of the Board of Management of Postgraduate Institute of Management (IPM), Senate, Board of Graduate Studies, and Board of Study of Management and Commerce to name a few of his commitments at the University of Sri Jayewardenepura.
Prof. Samarakoon graduated from the University of Sri Jayewardenepura with a B.Sc. (special) Degree in Business Administration with First Class Honours. Subsequently, he joined its faculty as an Assistant Lecturer in Business Administration. He was awarded the Presidential Scholarship by the Government of Sri Lanka to follow postgraduate studies in the United States. Prof.Samarakoon earned an MBA in Finance from the University of New Hampshire, and a PhD in finance with specialisation in international finance and economics from the University of Houston.
Professor Samarakoon's preferred area of teaching comprises Contemporary Global Finance and Economic Issues and Policy, Global Economics, Global Financial Services and Emerging Financial Markets – China, International Finance, Financial Management, Corporate Finance, and Investments and Portfolio Management. He is an expert on emerging economies and the Chinese financial markets in particular. His areas of research include causes and international transmission of financial and economic crises, understanding monetary, fiscal and other policy issues and solutions associated with financial crises, monetary policy and asset bubbles, and global finance and emerging markets. He has published numerous scholarly articles covering developed, emerging and frontier markets. He has also presented at numerous international conferences. His most recent work involves the study of the Eurozone debt crisis and its global contagion, and modelling monetary policy and asset bubbles.
He is a well-published researcher in the areas of capital markets and international finance, and received Sri Lanka's highest research recognition – the Award for Outstanding Contribution to the Sri Lankan Science – from the Sri Lanka Association for the Advancement of Science. Students and executives from both the private and public sectors have benefited from his books, teaching and training over the past 25 years. He has authored five books – Sri Lankan Corporate Bond Market, Debt Securities: Markets, Instruments and Analysis, Equity Securities: Theory and Practice, Financial Markets of Sri Lanka (in Sinhala and Tamil), four of which are published by the SEC and widely used as standard texts on financial markets in Sri Lanka.
Addressing the Academic and non- academic staff of Saegis Campus, Nugegoda he stated that he was pleased to witness the progress made by Saegis Campus which is recognised by the University Grant Commission of Sri Lanka and presently awards a number of Degrees and Diplomas.
He commended the work of the qualified staff and appreciated the State-of-the-art facilities, resources and equipment that are an integral part of Saegis Campus commitment to excellence. The Campus premises at the heart of Nugegoda City, the green environment with ample breath taking space that provides the students an ideal learning environment at Saegis Campus drew the attention of Prof.Samarakoon.
He emphasised that teaching, research and linkage with the industry should go together in order to achieve success in the present context of education, and solely theoretical learning is of no value for the students without real time work experience in the field.
He went on to say that merely cramming and using only what is in the book is not the type of teaching expected from the modern day teachers, particularly those academics attached to higher education. He added that unless teachers provoke new dimensions of the subjects and critically think of the validity and reliability of application in the modern world, the attempt to arouse curiosity and innovative thinking from students who will be future employees of the real market won't be possible.
According to Professor Samarakoon, the image of any higher education /institute depends on the quality of the academic staff. Since all genera of programmes are presently widely available, the most outstanding feature for a student/parent to decide on a programme from an available heap of opportunities would be a programme run by existent quality academics and the brand of the institute in the market as a pathway provider to the industry/job market.
He concluded the presentation stating that education is not for the sake of education, but for the employability and fulfilment of a better life.