Edlocate will bridge the oceans to help you experience Uni life in Australia
View(s):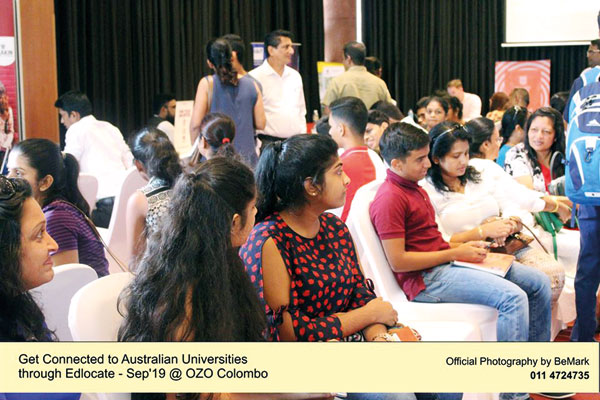 Edlocate is an organization with over two decades of experience and is a trusted partner for higher education.
Australia is a nation that has something to offer everyone, in terms of tertiary education, job satisfaction, life style, culture and much more. Edlocate represents over 50 Australian universities and institutions and the only study abroad entity in Sri Lanka to represent all of the top 8 universities in Australia, known as the GO8.
You too can meet representatives from Australian Universities on 11th& 12th of February, from 2pm – 6.30pm at OZO, Colombo, to plan out your path to a world-class education in Australia.
Edlocate student insights;
"I love it here and I am so happy with the university. Thanks to Edlocate for helping me get to
this place. Edlocate is one of the pillars behind my achievement, I am managing everything well. I am also one of the student representatives on some subjects at the university. I am part of
dancing club, animal society, singing club, business consulting clubs and many other societies
both academic and non-academic. Many thanks to Edlocate and I do follow Edlocate Instagram and Facebook page"
Shenoli Perera – University of Sydney – Bachelor of Commerce
Past student of Lyceum International School, Wattala
"I have completed my first semester and exams. The course was amazing with a diverse group of students and professional tutors and lecturers. The level of technology used by the university for the teaching was also beyond anything I could have imagined. I have joined the Marketing and International Business societies and hope to join more in the future. I Thank Edlocate for giving me this great opportunity."
Thaveesha Jinadasa – Bachelor of Commerce – UNSW
Past student of CIS , Kandy
"Having set my goal to study the Bachelor of Biomedicine, I decided to choose the University of Melbourne because it provides its students a world-class education being ranked no 1 in Australia. Moreover, the university provides numerous work opportunities, like internships and work placements, which would allow its students to gain early industry exposure"
Pranavie Vijayakumar – Bachelor of Biomedicine – Melbourne International Undergraduate Scholarship 
Past Student of Stafford International School
I'm fortunate to study at one of the Top 100 universities in the world. The course is very challenging & trying my best to keep up. I'm just enjoying my mid semester break & also I'm a member of the RUSU (RMIT student union) for now.
Thank you for the support provided by Edlocate on my visa process, as well as my mother's visit visa. She absolutely loved it here in Australia. We also had a great family holiday, yet another big thanks to Edlocate. Wishing you all the best for your future.
Elmo Evon. RMIT University. Master of Laboratory Medicine. Graduated from Northambria University, UK
I have joined the PhD programme in Management at the University of Newcastle & it has connected me with the top tier researchers & it has opened up incredible opportunities to advance my career. I have been exempted from the research courses as I have done it for my Msc, thus continue my research straightaway with two supervisors.
The research work is very flexible here as we can work from home or either at our own office space given for HDR students.I am very grateful the cooperation rendered by Edlocate & Thulasi.
Thedushika De Silva . The University of Newcastle. PhD in Management. Graduated from University of  Sri Jayawardenapura
Meeting a representative from Deakin University at Edlocate changed my life. With the guidance I received from Edlocate pursuing getting me in to the University, today I am a successful graduate from The Deakin University with a B. of Communications – majoring in Public Relations. Moving back to Sri Lanka, I worked at Grants Public Relations for a year & joined my father's production house, where I started a digital wing which focuses on creating content for social platforms. With almost a year of building my company, I was appointed Editor of Tech Advisor. Juggling both & aspiring to do more, I hope to achieve great heights in the year to come!
Sheranya De Silva . B of Communications – majoring in Public Relations. Deakin University. Past Student of Asian International School
Students who wish to enroll in undergraduate degree courses are able to join them directly if they have 3 A/L passes with the required grades. Those who do not have direct entry qualifications have many options to enroll in bachelor degree courses through a number of excellent pathway programs (Foundations, Diploma, Degree Transfer programs). These could be packaged and offered with selected degree course of choice.
All of the Edlocate counselors will be associated with the university representatives and academics to provide additional information with regard to financial and other requirements from enrolment to obtaining student visa.
Arrangements are made for students to lodge applications for placements to selected universities without incurring an application fee for the July and  post July 2020 intakes at the interview sessions.  In order to do so, we request students to bring O/L and A/L results if you are enrolling in undergraduate studies and those seeking postgraduate studies should bring the documents pertaining to the first degree or professional qualifications. They should also bring IELTS/PTE results (If available) and the passport. Whilst students who are sitting for London O/L and A/L examinations in May 2020 can lodge applications for placements with pending results (from school authorities).
Australia is a melting pot of cultures and a place with limitless possibilities. While hosting some of the world's finest universities, they also hold a position around the world as a country with a large number of international students in their universities and institutes, surpassing England and USA.
Another attractive aspect of Australia is that the Australian Dollar ratio to the Sri Lankan Rupee is more economical and stable than the GBP or USD.
Students are also allowed to work a controlled number of hours whilst attending university and qualifications come with post study work visa facilities (conditions apply)