Are you ready for America?
View(s):
While students often dream of restarting their lives in America, the reality is that it can be equally as challenging as it is interesting!
One of the most common challenges international students face is dealing with "culture shock." This is the time of transition from home to an unknown country, and adapting to the new culture, can be a challenge.
It is therefore advisable to get advice from the right sources, ensuring that accurate information is received.
Change of culture and values
American customs and values can differ to those in Sri Lanka, and can be confusing therefore. Independence, equality, informality and directness are four of the values that are near and dear to the American heart. A way of understanding the values is through getting used to the traditions. This is easily achieved by participating in the holidays and events.
Become globally  competitive through international exposure
Studying abroad for longer periods encourages cultural immersion and provides more opportunities for world travel, overseas internships and a stronger sense of academic stability. The exposure received enables the student to be globally competitive.
The degree programme will provide students with the experience and knowledge to excel in further studies or in the world of work. The customised degree programs are designed to empower students to be the best version of themselves, as well as the ability to succeed in all that the endeavor.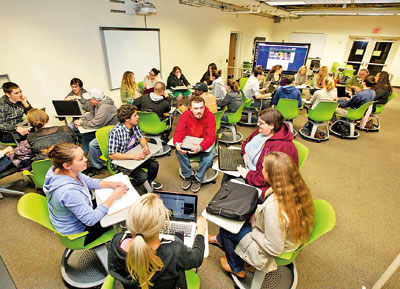 Start in Sri Lanka, continue in America and travel the world
In order to give students the maximum opportunities, NCHS has affiliated with the California State University Monterey Bay, California State University San Marcos, California State University Bakersfield, California State University Sacramento, California State University Northridge, California State University Fresno, California State University Humboldt, and the State University of New York at Albany.
"Through the collaboration, students will be offered transfer programmes to these prestigious universities. Students are given the opportunity to complete the first two years at NCHS, and thereafter transfer to an American University of their choice" explained CEO/ Deputy Chairman of NCHS, Victor Ramanan.
Enrolling in an American transfer degree will be the first step in a long and prosperous journey. It is merely the opening of a door to a future full of endless possibilities and opportunities throughout the world.
Nawaloka College of Higher Studies, Colombo
Located in the heart of Colombo 03, NCHS offers the best facilities which include purpose-built engineering and computer laboratories, a resource-oriented library, study areas and ample parking space and reputed academics to administer the programmes. The same syllabus, methods of delivery and evaluation are followed, ensuring that the pathway programmes conducted at NCHS are of equal standard and quality.
Student loan facilities at special interest rates are also on offer to help students pursue their higher education at NCHS.
If you wish to maximize on this fabulous opportunity and be a part of the prestigious degree pathway programmes at NCHS, call 0777 799 997/ 011 5 899 998 or email info@nchs.edu.lk for more information.
Are you ready for America?