Rotten eggs, Malinga-Dayasiri row and the likely humiliation
View(s):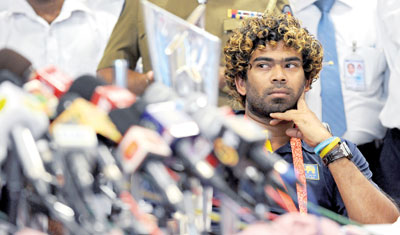 Much has been happening since the Lankans returned home after their incident-filled cricket excursion to Old Blighty. Now, those who are involved with the game of cricket are on their toes and, at the same time, are also looking over their shoulders to see if there are any disparaging tell-tale signs haunting them. So much so, they are even trying to change some age old adages or, even turn a blind eye to the obvious.
In one instance, upon the return to Maitland Place, Lasith Malinga, who was a surprise guest at the head table, told the press that missing catches does not make us lose matches. Correction sir! With what we know of the Englishmen's game that brought glory and fame, 'catches win matches', and that is exactly what happened in that crucial game against Pakistan, on that fateful day during the Champions Trophy quarter-final—if you can call it so. But, what is lost is gone forever and even the mightiest pachyderm ever sired on earth cannot reverse the situation.
Nevertheless, the question that I would like to pose at this juncture is, what business had Malinga to be at that news conference. Well, there was Captain Angelo Mathews, Coach Graham Ford, Cricket Manager Asanka Gurusinha and, above all, Sri Lanka Cricket President Thilanga Sumathipala ready to file answers to the poky newshounds present on that date. But surely, Malinga was sitting there sans credentials. Yet, it's Thilanga's car and Thilanga's petrol, so he can invite any player whom he deems fits the bill.
However, at juncture it seemed that Sports Minister Dayasiri Jayasekera had  begun to query certain moves under his purview, and check if they are in line with the accepted norms.
It seemed that Minister Jayasekera had begun to get earnest. Last week, he berated the Lankan cricketers and said there were many players unfit to be included in the playing eleven. He charged that some were pot-bellied and slow, while the cricketers from Bangladesh looked so much fitter. He also believed in the same sentiments that I had. He disagreed with Malinga and said that, as a result of players being unfit, they tend to miss catches. He added that he will not place his signature to approve unfit players turning out to represent the National cricket team in the future. Then, he has gone one step further and said that people who are medically unfit will not represent the country in any sport in the future, and from January next year, physical fitness would become a norm.
Yet, Malinga has disagreed and come out with his parrot tirade against the norms set my the Sports Minister.
Maybe it is the cricket medical authority that says that a player is fit to represent the country, but, truth is he is injured he cannot be the same Malinga as before.
Yet, we also feel that very cynically some one is trying to use Malinga, knowing that he has a history of  a loose tongue. He has been brought the pedestal knowing well that he possesses the knack of exploding where its not needed.
Nevertheless, the all-powerful Asanka Gurusinha who is SLC's cricket manager also has announced that the Lankan team does have a fitness problem and they are working to put things right.
Making it more interesting former Lankan skipper Mahela Jayawardene who has now launched a successful coaching career for himself has tweeted "Agreed on fitness and all should be at a good level. Discuss things in closed doors. Playing to public galleries is politics. If we create a culture when we lose a world event, the team is disowned and find fault we will not have players who wants to play with passion. Also they will be playing without freedom and be scared of the outcome. Let's not do that… let's be more mature how we conduct ourselves."
We all know a politician's word is made of  wet clay and by Friday Minister Jayasekera's hot chair had begun to cool down. Now he has retracted and said that selection is the business of the cricket authority. But, I believe he still holds the power to approve the selects.
However if ever the minister thinks of getting serious there are more rotten eggs in this cricket basket that has to be buried. The sooner it is done, the better it is for the general health of the game.
For instance, it was not so long ago that the SLC took the Sports Minister for a ride with its balance sheet gig. At one point of time, the SLC went into raptures claiming that the Sumathipala administration had made great strides in its first year in office. The SLC president stated this after handing over last year's un-audited financial report to Sports Minister Dayasiri Jayasekera.Sumathipala pointed out that the previous interim committee left with a Rs. 320-million loss and, due to their ingenuity, the SLC had managed to save Rs. 200 million by the end of 2016.
Backing it up, the Sports Minister said at that time, "SLC was in a very tragic financial state, running to a nearly Rs. 400-million loss, and it is great that Sumathipala and his team turned things right. We never interfered with selections and SLC's day-to-day activities."
Yet, he was fibbed upon on both counts. First, the SLC's profit was only Rs. 63 million, it was revealed two weeks ago. Now, upon that, the Minister is of the view that some players are pot-bellied and unfit to represent the country.
Some think that the SLC, at present, is like a runaway train. It's moving at a mighty pace, but no one knows where it's heading.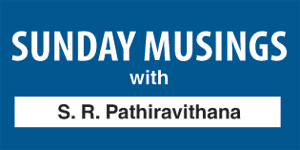 A year-and-a-half ago, when the Sumathipala administration took over the cricket administration of the country, there was pomp and pageantry. The then new administration announced that Graham Ford would be the cricket coach, Angelo Mathews captain and Dinesh Chandimal vice captain, till the next World Cup in 2019.
Ironically, the situation has almost reversed. Friday before last, the Sunday Times learned that Coach Ford has taken lock, stock and barrel, when he went on leave after the tour of England.
Now the SLC says the parting was mutual and they are hoping to crown home town boy Chandika Hathurusinghe. Now he can wear the SLC's head coach paper crown made out of face towel. Till such time, another South African Nick Pothas who has played three ODIs will look after the Lankan interests.
Then, we learn that the name of Sanath Jayasuriya has come up for approval to continue as chief selector for another year. Yes of course, we have the greatest respect for him as a player and yes, he also reads the game well but, there are other merits and demerits one has to consider when an appointment of this nature is made. If Jayasuriya is approved, how would they be able to contain the next lot of Kithruwan Vithanages.
Just see within the last one-and-a-half years, we have slid right down the barrel in the ICC rankings – especially the ODI segment, where Cricket's four-year cycle revolves. It is no joke; we are only 16 points adrift of the West Indies.
Thus, the result is that, we have missed a golden opportunity to harness the talent of tomorrow, when Sri Lanka takes on Zimbabwe a few days hence. Now, we have to pull up all our socks and try batter the African fly with an iron pole. Why? — because we have been mismanaging our Cricket during the past one-and-a-half years. Mind you, the cutoff date is September 30 and the West Indies have a few more games left to redeem their pride, before they are relegated. By chance, if that happens, it is Sri Lanka who will have to pay with relegation, and play a round of qualifying matches to get to the 2019 World Cup in England.
Are we ready for such eventualities, Minister Jayasekera?
Ask the Editor
Sunday Times Deputy Editor (Sports) S. R. Pathiravithana takes viewers through the performance of the Sri Lanka Cricket team during their recent Champions Trophy run in a new online video segment. Have a question for the Editor ? Then let us know via  email at timesonline13@gmail.com and we'll take it up in our next video segment.