Awaiting the Botswana Netball experience
By Susil Premalal
View(s):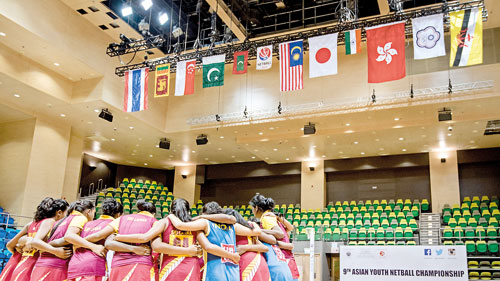 The international match experience which the Sri Lanka Youth Netball team gains at the World Youth Netball Championships in Botswana from July 8 to 16 will hold them in good stead for future international competitions, specially the 2018 Asian Senior Netball Championships to be held in Singapore, said National Youth Netball Coach Janaki Gunasekera to the Sunday Times.
This is the first time the Sri Lanka Youth Netball team represents the World Youth Netball Championships. Sri Lanka obtained this opportunity when they emerged champions in 2015 at the Hong Kong Asian Youth Netball Championships.
In the final in Hong Kong Sri Lanka beat Malaysia 53-48 to emerge Asian Champions. In that tournament Sri Lanka were the champions, runners-up were Malaysia and third place was taken by Singapore. All three teams qualified to take part in the Botswana World Youth Netball Championships. Incidentally Sri Lanka won that tournament after a thirteen-year laps.
However in the May 2017, the Asian Youth Netball Championships  which took place in South Korea, Sri Lanka in the most unexpected manner occupied only the fourth place.
With that defeat there was a tussle between players, the coach and the netball administration. As a result the coach who trained the champion to the Hong Kong Asian Youth Championships, Tamara Liyanage, was sidelined and two school coaches, were appointed under the instructions of the Sports Minister. Janaki Gunasekera of Kalutara was appointed Head Coach while Amalka Gunatilleke of Kurunegala was appointed as her deputy.
The Sri Lanka team has been announced with Mandira Charuni as the skipper and schoolgirl Kavina Rajapaksha as her deputy.
Head Coach Janaki told the Sunday Times, "We are proceeding to the World Championship not with the intention of winning the event. Our objective is  international experience — this is our main target.
"The team that is trained is very talented. There are eight players with international experience. The Netball Selection Committee admits that there is a improvement for the better."
Twenty teams from five regions will take part in the World Netball Championships in Botswana. Sri Lanka is in Group 'A' along with defending champions New Zealand.
New Zealand has won the world championships on four occasions. The other teams in Group 'A' are: Scotland, Northern Ireland and Samoa.
Continuing, Coach Janaki Gunasekera said that she believes that Sri Lanka can topple Northern Ireland and Scotland.  "We have watched videos of Northern Ireland and Scotland teams in action. It is evident that if Sri Lanka stages a good fight a victory can be achieved against these two teams."
Head Coach Janaki Gunasekera has thirty years experience and Asst. Coach Amalka Gunatilleke were top coaches at school level. Janaki has produced several players from Kalutara area while Amalka has been responsible for producing good players from the Kurunegala District.
"The 2018 Asian Senior Netball Championships in Singapore is a big challenge for Sri Lanka. The reason being we have been Asian champions on four occasions. But since 2010 we have lost it on three successive occassions.
"Sri Lanka has a good netball history. It is a sad thing that a country such as Sri Lanka being unable to win the Asian title. If we are to win it again we must indulge in short and long term plans. The place to commence this struggle is the Botswana World Youth Netball Championships. The Sri Lanka team is young and talented. This team can continue for another five or six years.
"Sri Lanka will face at least ten international matches from the South Korea Youth Championships and the future Youth Tournament. This is Sri Lanka's golden opportunity to gain valuable experience.
"After the tournament of the team continues to train winning the Singapore event in 2018 is not a big question," concluded Head Coach Janaki Gunasekera.
The Botswana bound team is training at the Army Camp Panagoda in the mornings and at the Torrington Indoor Stadium in the evenings. The coaches hope to conclude training by July 1.
The team will fly to Botswana on July 3.
The Sri Lanka Youth Team
Mandira Charuni (Capt. Seylan Bank), Kaveena Rajapaksha (Vice Capt. – Hillwood College Kandy), Melani Wijesinghe (Visakha Vidyalaya Colombo), Natasha Aluvihare (Hillwood Kandy), Malsa Sathsari (Seylan Bank), Sethmi Dhanusi (HFC Kurunegala), H.D. Hapuarachchi (HFC Kurunegala), Susima Kumari Bandara (HFC Kurunegala), Poorni Lakshani Gamage (Army), Nadee Madushika (Kalutara), Tharushi Illangaratne (Visakha Colombo), Sachini Hirunika (Army).
Standby's: Imesha Nirmani, Aloka Dissanayake and Rashmi Divyanjalie.
Coaches: Janaki Gunasekera (Head Coach), Amalka Gunatilleke (Asst. Coach), Dr. Lal Ekanayake (Team Physician), Jayanthi Somasekeram de Silva (Manager).