Olympic High Jumper Manjula Kumara to quit
By Susil Premalal
Holder of the Sri Lanka High Jump Record since 2004
View(s):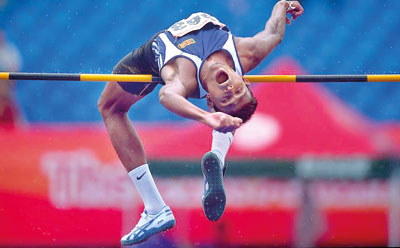 Sri Lanka's Olympic High Jumper Manjula Kumara Wijesekera has decided to quit after the next Asian Games in Jakarta, Indonesia, from August 18 to September 2, 2018.
Prior to that, he will be the team leader at the 22nd Asian Athletics Championships in Bhubaweneshwar, India, from July 6-9. He is the most senior athlete in the Sri Lanka team, representing the country since 2001.
He has won the Asian Championship High Jump Gold Medal twice. First in 2005, at the Incheon Asian Championships, South Korea, clearing 2.27m, which is his personal best, and the second in 2009, at the Guangzhou Asian Championship, China, clearing 2.23m. He has also won Gold at three South Asian Games (SAG). First was in 2004 in Islamabad, second was at the Colombo SAG in 2006, and last year in Guwahati, India, which was his last.
He has participated in 20 international competitions including the World Athletics Championships, World Junior Athletics Championships, Asian Games and Commonwealth Games. He represented Sri Lanka at the 2004 Athens Olympics in Greece, which was his only Olympic participation.
He has taken part in four Asian Games – 2002 in Busan, 2006 in Qatar, 2010 in Guangzhou and in 2014 in Incheon. His final will be in 2018 in Jakarta.
He has held the Sri Lanka High Jump record for 13 years, since 2004. His hometown is Morawaka, and is a past pupil of Dickwella Central. He is presently attached to the Sri Lanka Air Force.
"I have represented at almost all top level Athletic competitions including the Olympics. This I believe is the top most level any athlete can boast of."
"Next year's Asian Games will most probably be my last. I will try my utmost to get Sri Lanka a medal. We cannot hope for a Gold, because there are some top athletes including Olympic Gold medalists. We may be in line for a Bronze."
"I went for two trials for the Asian Championships, but managed to take part in only one trial, as I was indisposed for the second trial. This is also the last chance to qualify for the Word Championships. I will, however, do my utmost."
"Presently, I have cleared 2.20m and hope to do better, after training in India two weeks before the Asian Championships, which is a godsend to the Sri Lanka team."
"After retiring from Athletics, I have no idea what I will be doing. Most probably, I will be involved in coaching," he concluded.