Sad tale of Johnian Rugby poaching
By Naushad Amit
Ministry of Education says "We will not interfere if NOC is in place"
View(s):
Schoolchildren changing institutions for academic and extracurricular activity purposes is an issue that is beyond the control of higher authorities, according to the Ministry of Education's (MoE) Special Advisor on Sports, Sunil Jayaweera.
Sunil Jayaweera, a veteran in Sports administration and legislative issues, explained that, if a principal or a head of an institution has given his or her consent through a 'No-Objection Certificate' (NOC), it is meant that all parties have agreed to the movement of the child. He made this statement to the Sunday Times, in response to the exodus of 14 members of the first XV Rugby team of St. John's College Nugegoda, to five leading schools.
"It's arrangement or movement arranged by the parents or the school interested in granting the player/s a passage, and the principal of the current school endorses the move with an official letter, it's a legitimate transfer. In such instances, protests, written or verbal, is of no consequence, as the basic requirements for a clean transfer, for whatever reason, has already been cleared," said Jayaweera.
In Sri Lanka, poaching players for Sports has been a longstanding custom but, it has always been a case of a star player from a lesser known school gaining entry to an elite institution. But, the worst end of such moves became highly evident when St. John's Nugegoda was left with virtually nothing, and had to withdraw from the recently concluded Singer Schools Under-20 League Rugby Championship 2017, after 14 players from their squad of 18, were pinched by five top Colombo schools.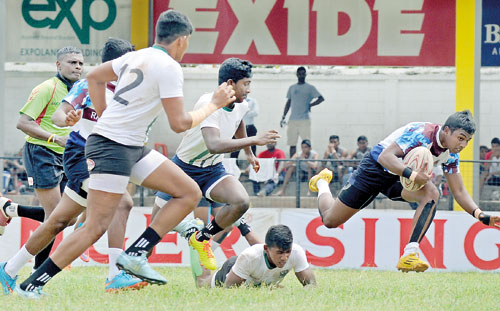 Jayaweera explained that, in case of such an incident, the Ministry of Education has no authority to conduct investigations or ask for explanations from the principal of the child's former school. However, the Ministry of Education Secretary has the authority to overrule or, make a final decision, if the child's parents seek help from higher authorities for a change of school.
"In this case, it is unclear if the procedures have been correctly followed by the principal of St. John's Nugegoda. However, the necessary documents have been released by him to all 14 players, where the legitimacy of the movement of these players cannot be challenged by any party," explained Jayaweera.
Behind the scenes, it is reported that the head of the school played a silent role to release the players, which many supporters and admirers of Rugby at St. John's Nugegoda claim that, it was a well planned plot. Some even allege that the head of the school has been monetarily looked after by the said five schools, for releasing the 14 players with No Objection Certificates.
While supporters, old boys and even some outsiders are pointing fingers at the principal of St. John's Nugegoda, for the unethical release of the players, many have refrained from extending their usual support for the school's Rugby. Even the Sri Lanka Schools Rugby Football Association (SLSRFA) is helpless to take any action or rule on such possible future exoduses. More are of the view it is an issue of morals.
Sri Lanka Rugby has made it a point to avoid such moves termed as player-transfers at Club Rugby level, in their Tournament Guidelines & Rulebook. By adopting the rule, Sri Lanka Rugby has prevented possible confusions and conflicts according to it Vice President Lasitha Gunaratne.
"It will be a clear matter if the SLSRFA could introduce rules and guidelines on player-transfers, in their Tournament Rules. If a school is advised to register players for a given period such as two or three years with them, it will be easy on the schools and the SLSRFA to monitor, approve or disapprove such moves. It will be fair and just by all" Gunaratne elaborated.
However, Sunil Jayaweera was clear and firm that, on such issues that come under the radar of the Ministry of Education, the Sri Lanka Rugby or Sri Lanka Schools' Rugby Football Association have little or no authority to interfere or make decisions. He further emphasised that players changing camps is a global issue and, if the player, schools and even countries have stuck to the guidelines, nothing could come in as obstacles.
"This is happening globally, as we see athletes, especially runners from the African continent representing Middle East and even European countries at Olympic Games. The International Olympic Committee (IOC) has clear guidelines on such moves and, if all are in conformity, individuals have the liberty to represent their adopted country. In Sri Lanka Sports, this is happening at school level for ages. It's not a bad thing to help one or two players at a time, to reach the next level, if their present schools are unable to provide the needed facilities. But such moves taking place in large volumes at a time, will surely raise many eyebrows, even if everything is in place"Sunil Jayaweera said.
Presently, the Old Boys Association and the Supporting Committee of St. John's Nugegoda have distanced themselves from nurturing the game at school and its players, after the whole fraternity was left dejected. The SLSRFA officials are currently making a valiant effort to win back the interest of the members of the OBA and Supporting Committee, who collectively generate an annual expenditure of Rs 2 million, to maintain the first XV squad, but to no avail. An official of the Western Province Education Dept has been visiting the school since last week, to investigate the matter.