Letters
View(s):

The IGP is the sole authority when it comes to conduct of police officers

It was surprising to note that there is a conflict between the Inspector General of Police and the Ministry Secretary regarding police officers being summoned to the Ministry without the knowledge of the Inspector General of Police and even transfers effected without informing him.

Having read the contents of the media letter and the incident, I am of the opinion that the Inspector General of Police is correct and he is the sole authority concerned with the conduct of all Police personnel. It is not only in the Police service but it applies to all other Heads of Government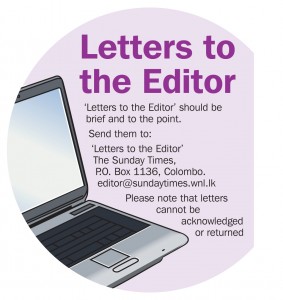 Departments too.
There is a set of protocols regarding officers dealing with outside agencies whether it is a ministry or department. The head of the Department has to be aware of all matters regarding his officers and subordinates. The Establishment Code and regulations had been so enacted from time immemorial to maintain strict discipline and to ensure proper administration of these institutions. This also prevents departmental officers from using certain undue methods to influence the Heads of other departments. It is common courtesy for the other head of Department or Ministry to insist that the individual concerned has obtained prior approval from his departmental head or at least informed him in writing. No one is expected to deviate from this practice.
Even if any Government Officer is invited to a function of another department, ministry or even a embassy, he should promptly inform his Departmental head and have his approval before attending of the event. However, we often see Police Officers attending parties (with photographs in the newspapers), appearing in films and allowing Police Stations to be filmed without any permission from the Inspector General of Police. This procedure has also to be adhered to by going through the proper channels and not direct with Inspector General of Police.
Obviously these unlawful practices are morally and ethically incorrect. It is imperative to note that rules are laid down to be followed. At least the Inspector General of Police has put his foot down before the system can fall apart. This is nothing personal, it only protects the prestige of the Police Service.
I presume that the secretary himself would not have allowed such things to happen when he was the head of the Police Department, which could have brought misconduct and indiscipline to a so far efficient service in the country.
S.B.Senaratne
SSP Retd.
Former Director, Police Public Relations, Media and Crime Prevention
Satha, the magician with his magic bat
I thought that the readers of the Sathasivam Case published in the Sunday Times these past two months would like to see the autograph of the flamboyant batting genius. Along with his signature are those of F.C de Saram, B.R. Heyn, V.G. Prins, R.B. Wijesinghe and other famous Ceylonese cricketers of that time.
When Satha visited Galle to play in a Combined XI game, I as a young boy, asked him for his autograph. He looked at me for some time, smiled broadly, signed in clear beautiful handwriting and said 'Good luck, son".
In a Combined XI Vs the Sara Champs match at the SSC grounds, F.C. de Saram asked his team "who will open with me?" None obliged. Then Satha said, "I'll come with you." He walked out and scored a scintillating 205 runs.
The pitch was his dance floor. When he wished to pull a ball to the leg-side, he put his right foot outside the off side and when he realized it was a huge leg break spinning outside the off stump, he promptly late-cut it. The late-cut was his favourite stroke. The pitch was his dance floor and he mesmerized the bowlers with his footwork and wristwork. His bat was his magic wand. His double century at Chepauk, India is still spoken of.
He always walked up to the wicket with his silk short fluttering in the breeze, the long seeves rolled up only above his wrist and his cap tilted over his right eye. I have seen Worrel and Sobers bat but to me Sathasivam 's bat seemed lighter than theirs.
Kalyana de Silva
Dehiwala