From 'playing' school to art school
By Vinusha Paulraj
The founder of the Shyamala School of Art recalls how it all started as her students, prepare for an exhibition
View(s):
When it comes to teaching art, Shyamala Pinto-Jayawardena has a few years of experience that not many know about. She will tell you about her
32 years of experience as a teacher but the first art school under her tutelage started a lot earlier, when she was a child of six. Araliya flowers laid out over leaves from the garden were her students presided over by Shyamala who wore one of her mother's sarees and "put on her toc-tocs."
Children generally tire of a game but little Shyamala's commitment to her 'students' was almost ritualistic. Six chairs on which Araliya flowers 'sat' were placed around her in the lawn, where she would remain daily up until the skies got dark. "It must have been quite a sight" she laughs, picturing a tiny version of herself in all those yards of messily draped saree, scuttling around in her mother's heels. For one observer however, it all made sense 15 years ago when the Shyamala School of Art was established. "When I told my grandmother I was setting-up an art school, she wasn't too surprised."
Today about 140 students are regulars at the Shyamala School of Art and have her to thank for their creative development. Students as young as four walk in and out of the colourful studios on a daily basis. An adult class too is available "where people come to be themselves."
For many of the students, the Art School has become more than just about art. "I do have children with special needs," Shyamala tells us, which can require a slightly different approach. Inspired by the persistence of her teachers in moulding her abilities she feels the therapeutic effect of art can do a lot. Seeing a marked improvement in children with special needs she says, "They find themselves working with other kids," which slowly allows even the most socially anxious child to adapt. Her attention is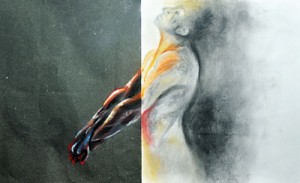 needed by not only her students but sometimes by their parents too, she smiles. "I feel the parents need art class more sometimes!"
Despite coming from a family of "no art people" as she puts it, the importance of the subject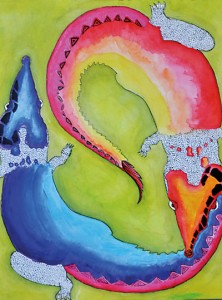 has been one she has long been passionate about. Having enjoyed the nurturing and support of a musically inclined family, it has been her task to create the same environment for other children. In addition, "Art School is the only place that offers recognised art qualifications," she tells us. Licensed to conduct classes and enter candidates for the Edexcel and Cambridge O'Levels and A'Levels in Art and Design, students who wish to privately take the subject are more than welcome in her Art School. "I'm even looking at partnering with a British University soon, for the benefit of those students who have completed their London A-Levels and wish to continue further studies in the field," she says.
There is an excited buzz within the school as students are currently putting the final touches on their work for its big event. An exhibition featuring all her students' pieces will colour the walls from December 11-13. This will be the Art School's first exhibition since 2011 and for some students, it will be the first time that their work will be displayed. Not seeing the logic in holding a yearly exhibition Shyamala says, "I wanted the students to settle down and learn something first, so they can show quality pieces and not just create them to fill a wall."
The Shyamala School of Art is at No. 3 Siripa Road, Colombo 5. The exhibition opens on the 11th at 5 p.m. and
will be on, on the 12th and 13th from 9 a.m. to 9.30 p.m.