Lankan Spice Island goes to Britain's House of Fraser
View(s):

Spice Island, the Ayurveda based Sri Lankan brand announced its partnership with House of Fraser in the United Kingdom. Spice Island beauty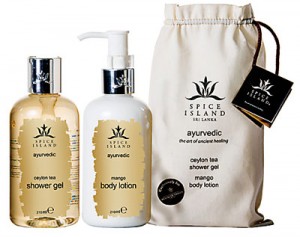 products with limited edition gift packs for the Christmas Season 2014 have gone on sale for winter 2014. Harnessing the secrets of Ayurvedic healing and pure rainforest spring water, each set is infused with potent natural plant extracts for the ultimate at-home pampering.
House of Fraser is the leading, national premium department store group in the UK and Ireland trading through 61 stores, as well as through its rapidly growing web-store, www.houseoffraser.co.uk and two Houseoffraser.com concept stores. The complete Spice Island range consists of six sets at House of Fraser, which are enclosed in hand woven linen drawstring bags.
"The House of Fraser-Spice Island Brand Launch, opens up a new chapter in the history of Spice Island and Sri Lankan based personal care products, because it essentially creates an avenue for the United Kingdom and Europe Union consumers to get the opportunity to experience this luxury product range, and creates an opportunity for putting Sri Lankan origin products on the beauty map. We hope that this House of Fraser partnership will be a launching pad for further penetration into major retailers in the European Union and United Kingdom," said CEO and founder of Spice Island Ashan Malalasekera.